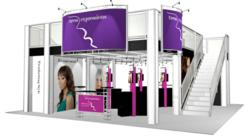 Did the booth fall? No.
Des Moines, Iowa (PRWEB) February 11, 2013
On February 9, 2013, 3Din2.com reported that one of their two-story trade show displays collapsed during a presentation. Guests were surprised to learn that the collapse was a predetermined part of the demonstration to show the rigidity and portability of the exhibit structure.
"Did the booth fail? No," says Chad Leiffert, co-owner of 3Din2.com trade show booth builders. "The structure was merely being taken apart so it could be transported to the next event. As part of the demonstration, we added a little flair, making sure our guests would remember just how strong and rigid these double-decker structures really are. Not many people have seen these two-story trade show booths yet, so to see one during the assembly or disassembly process is quite amazing."
Two-story trade show booths are something many trade show attendees will soon see much more of, thanks to the recent changes and advancements in collapsible truss technology. A second floor at a trade show allows exhibitors to offer something special to trade show attendees, who are very used to seeing the same booth designs, show after show.
"Two-story booth exhibit technology is really exciting for us. We work very closely with manufacturers like Trussworks, to ensure these double-decker exhibits are safe, and also meet all of the required building codes," according to Robert Albright, co-owner of 3Din2.com.
3Din2.com is the online division for Midland Display Products, a thirty-year veteran trade booth design and manufacturing company. Since 1982, Midland Display has been building custom trade show booth beginning at under $1000, with some costing over $50,000. Unique to 3Din2.com is their willingnees to work with customers on their trade show booth design without charging a consultation fee. Potential clients of 3Din2.com can call a toll-free phone number to receive a free trade show booth consultation, along with free CAD designs for their booth, all in less than two hours.
Interested in having a collapsible trade show booth built for your company? Visit the Midland Display Products website at http://www.3Din2.com, or call their toll-free consultation number at 1-888-525-8103.