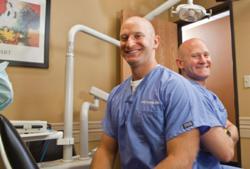 Parents may not be aware that the developing teeth of their young children require special attention.
Austin, Texas (PRWEB) February 12, 2013
February is National Children's Dental Health Month, and the Round Rock and Austin dentists at Family Tree Dental Group want to help raise awareness about the importance of oral health for kids.
"Parents may not be aware that the developing teeth of their young children require special attention. The same oral healthcare regimen that adults and older children follow doesn't necessarily apply to the little ones," said Dr. Chad Denman, Austin dentist/ Round Rock dentist and owner of Family Tree Dental Group. "It's also up to moms and dads to help the kids develop good habits at an early age to get a good start on a lifetime of healthy teeth and gums."
Here are a few tips for parents when watching over children's dental habits during the early childhood stages:
1) Children's teeth begin to form during the second trimester of a pregnancy, so dental health actually starts with moms. Pregnant women should eat foods containing calcium (including dairy, whole grains and leafy greens) and have a dental exam to prevent things like periodontal disease, which can harm a developing baby.
2) Parents should bring babies in at the first sign of a tooth or if they notice anything abnormal with the gums or mouth. Initial visits are mainly for parents' edification, covering topics like pediatric dental nutrition and cleanings.
3) Even though baby teeth only stick around for a few years, it's still very important to protect them. Early loss of baby teeth can cause crowded or crooked permanent teeth and can effect facial appearance and speech.
4) Children's gums and teeth should be cleaned with a finger brush or a clean washcloth using just water without toothpaste for the first six months to a year. After that, the switch should be made to a children's tuft brush. From age two to six, a pea-size amount of fluoride toothpaste should be used. Parents should handle the brushing of their children's teeth until at least age seven after proper techniques have been learned.
5) Children's teeth, gums and tongue should be cleaned twice a day, just like an adult's.
6) Since babies and kids eat often, it's imperative they drink lots of water to help rinse off sugars and neutralize the acids left behind by food.
7) After the first tooth eruption (around age one), children should not be put to bed with a bottle unless it contains only water. Even breast milk can lead to tooth decay if it remains in a baby's mouth overnight or extended periods of time.
8) As soon as the child has two teeth touching, it's time to begin flossing. It's as important as flossing for adults, and will get kids in the habit early.
9) Parents should highlight healthy food choices that include limited candy, soft drinks and other sweets that can lead to the development of cavities. Cheese is healthy snack option as it adds calcium, stimulates saliva production and counteracts chemicals that can eat away at tooth enamel.
10) Annual fluoride treatments reduce tooth decay in children by 70%. If the local water supply does not have fluoride in it, children should be given a daily fluoride supplement.
Family Tree Dental Group was founded in 2011 by Austin dentists- Round Rock dentists and identical twin brothers Drs. Chad and Shelby Denman to provide high quality dental care in a state-of-the-art environment with careful attention to detail and deep personal respect. Family Tree Dental Group helps maintain the oral health of patients of all ages and cares for all dental needs under one roof. For more information, call (512) 458-5999 in Austin, (512) 310-3999 in Round Rock, or visit http://www.FamilyTreeDentalGroup.com.