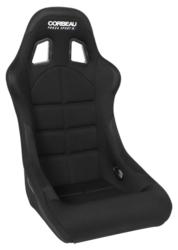 (PRWEB) February 11, 2013
For years Corbeau USA has been the industry leader in providing quality aftermarket seats for street, race, and offroad vehicles. On the other side of the pond Corbeau UK has been the European leader when it comes to performance FIA approved race seats for street, race, and offroad.
Corbeau USA is excited to announce that these FIA approved racing seats are now available in the USA at a price that is unmatched by its competitors. The Forza Sport seat starts at only $319 per seat and can be both side and bottom mounted. With Corbeau's full line of custom brackets, this will allow the customer to fit the Forza Sport in almost any vehicle.
The Forza Sport features well defined kidney, shoulder, and thigh bolster support which will allow the driver to remain in the ultimate driving position. This reduction in body shifting will reduce the amount of driver fatigue and enhance the overall driving experience. The Forza Sport is available in cloth and vinyl materials.
For more information on the Forza Sport along with the complete line of Corbeau seats and harness belts visit http://www.corbeau.com, email info(at)corbeau(dot)com, or call at 801-255-3737