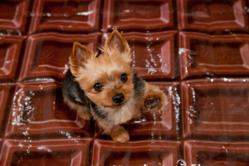 (PRWEB) February 12, 2013
Oh Valentine's Day: The time of year when love is in the air, lover's eyes are batting back and forth and copious amounts of chocolate changes hands. The consequences of eating chocolate for a human amount to little more than a few extra hours on the treadmill, but dogs and chocolate can be disastrous. Valentine's Day is the single biggest day on which dogs are taken to emergency rooms because of ingested chocolate.
In 2010, the ASPCA received over 167,000 calls. 17,453 were calls from people whose dogs ate food meant for people, many of them being due chocolate ingestion. This is a preventable situation, and a little care can save a fuzzy pup's life.
What Does Chocolate do to a Dog?
The chemical in chocolate that's so poisonous for dogs is theobromine, an alkaloid that has similar effects to caffeine. The common side effects of theobromine are vomiting and restlessness. In small doses there isn't much to worry about, but if enough is ingested it can be fatal.
What's the Attraction to Chocolate?
Chocolate is fantastic! Dog's, just like people, enjoy sweets and the smell of them can really get the saliva glands going. But different kinds of chocolate have different levels of theobromine in them. There's white, dark and milk chocolate, each made in its own way. Dark chocolate, also known as baker's chocolate, is the most toxic for a dog. 2 ounces of baker's chocolate can be fatal to a 20 lb, dog, while 20 ounces of milk chocolate would have to be ingested to be fatal, generally. A dog needs to eat 100 – 150 milligrams of chocolate per pound of bodyweight for theobromine to reach toxic levels. Doing some easy math, if a dog weighs 50 lbs, it can be estimated that if a dog ate 5,000 milligrams of chocolate, there might be a need for concern.
What Should be Done?
While allowing dogs to eat chocolate should always be prevented, small amounts aren't a huge concern to worry about. A dog may eat a half-ounce or an ounce of chocolate, and if they are 60 lbs, there won't be too much to worry about. They may have themselves a stomach ache for a while, but it will pass with minimal effects.
Typically, a dog will start to vomit and experience diarrhea when it eats enough chocolate to have been poisoned. Some dogs may not experience vomiting, so don't assume that because there is no vomit, there is nothing to worry about. The caffeine-like ingredient in chocolate may cause a dog to experience seizures, hyperactivity, and/or agitation. If this is the case, it's now considered an emergency and they should receive medical attention as soon as possible.
These symptoms will show themselves 4-24 after ingestion.
A vet will have a fairly easy time of neutralizing the danger, if they can catch the hyperactive dog and if the poisoning has been caught within a reasonable time.
In the event an owner is unsure of whether or not their dog has eaten enough chocolate to cause a reaction, they should call their vet and get some advice. They will be more than happy to explain what to do and whether or not it's time to come in and get treatment.
Simply being aware of dogs and chocolate and the danger involved should be enough to encourage owners to do all they can to keep chocolate out of their dogs reach.
Remedies From Home
Inducing vomiting is the first line of defense your vet will have, and can be done at home if a trip to the vet is not feasible. The more chocolate that gets expunged, the better chance a dog has to survive. At one time, vets recommended using hydrogen peroxide and water, but this causes esophageal ulcers. Instead, ipecac syrup can do the trick, but maybe go outside first.
Prevention
Don't get stuck thinking "my dog ate chocolate, what do I do". The best method of prevention is to simply keep chocolate well out of a dog's reach, and have a heightened awareness around the holiday's that produce more than normal amounts of chocolate around the home. By simply having a better awareness, a dog's likelihood of ingesting chocolate decreases greatly.
According to the Pet Poison Helpline, 95% of their chocolate calls are about dogs, rather than cats. Dogs are much more likely to ingest chocolate since they often lack that little voice in their head that tells them to stop eating. A dog can survive a chocolate poisoning if the right action is taken within the right timeframe.