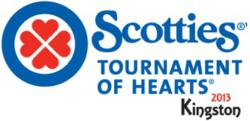 The enthusiasm Kingston residents display in converging to support events like the Scotties inspires us to celebrate with them their commitment to making the 2013 Canadian Women's Curling Championship a success
KINGSTON, ONTARIO (PRWEB) February 13, 2013
SecurTek Monitoring Solutions announced today that it has partenered with the Scotties Tournament of Hearts, which starts this week at the K-Rock Centre in Kingston, Ontario. SecurTek's investment as a Diamond Sponsor of the Canadian Women's Curling Championship recognizes Kingston as a place with a long history of firsts -- where innovation and the will to create traditions simply seem part of the local DNA.
The Royal Kingston Curling Club, established in 1820, was one of the first in the country. Kingston became the first capital of the United Canadas in 1841. Kingston is home to one of Canada's oldest degree-granting institutions (Queen's University) and Canada's oldest continuously published daily newspaper (the Kingston Whig-Standard).
Kingston also claims to be the birthplace of ice hockey, notes SecurTek CEO Barry Rogers:
"However disputed that claim may be, the enthusiasm Kingston residents display in converging to support events like the Scotties inspires us to celebrate with them their commitment to making the 2013 Canadian Women's Curling Championship a success."
Rogers added that "behind every athlete competing here, every volunteer, every person who is helping Kingston host this quintessential Canadian event, there is someone who made that participation possible, someone who innovated in what may be a small or a big way. And because SecurTek is in the business of innovating, we understand that it is the small innovations that often pave the way for the big ones."
While Kingston is getting ready to welcome Canada, SecurTek will be there, 24/7, to ensure people, homes and businesses left behind while attending the Scotties Tournament of Hearts, are protected through state-of-the-art security monitoring solutions developed with their needs in mind.
The Scotties Tournament of Hearts gets under way Saturday February 16, with Finals held on February 24. Live game coverage will be provided in Canada by TSN and RDS networks.
About SecurTek:
SecurTek is a leading provider of monitoring solutions and event related information services through an extensive dealer network and strategic partnerships, for 70,000 customers across Canada. A subsidiary of SaskTel Telecommunications, SecurTek earned the Five Diamond Certification for providing superior monitoring service in the North American security industry, awarded by the US-based Central Station Alarm Association (CSAA). SecurTek monitoring stations are Underwriters' Laboratories of Canada (ULC) certified, meaning SecurTek meets or exceeds the highest industry standards with regards to call overflow, staffing requirements, response procedures, computer systems and backup power systems. SecurTek offer burglary, commercial, fire, environmental, medical, video, access control and residential monitoring services.