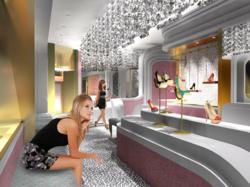 San Diego, CA (PRWEB) February 13, 2013
Students taking an interior design class at NewSchool of Architecture and Design developed concepts and renderings for a luxury boutique shoe store under the guidance of Italian architect and interior designer Paolo Giachi. The fall 2012 class was part of a new series of NSAD global design education initiatives through the newly created Domus Academy School of Design at NSAD, which is offering a Bachelor of Interior Design in 2013-2014.
Student renderings developed during the class will be on display during NSAD's upcoming Open House for prospective students Feb. 23. For more information: http://www.newschoolarch.edu/openhouse/open-house.php
Giachi brought to the NSAD classroom more than 16 years of experience in designing retail stores for luxury fashion brands such as Fendi, Louis Vuitton, Prada and Jimmy Choo in locations around the world. Giachi came to NSAD as a visiting professor from Domus Academy in Milan, Italy, which has been recognized by Bloomberg BusinessWeek as one of the best design schools in the world. NSAD and Domus Academy are both part of the Laureate International Universities network, and the Domus Academy School of Design at NSAD is a collaborative effort between the two schools.
The NSAD interior design class is featured in a recently-released video about Giachi and his projects in San Diego and Southern California.
For examples of student renderings produced during the class and additional information: NewSchool of Architecture and Design PR Manager Anna Cearley at acearley(at)newschoolarch(dot)edu or 619-684-8791.