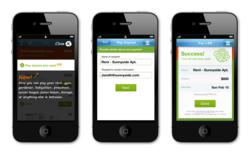 We want to make it easy for consumers to pay locally.
Palo Alto, Calif. (PRWEB) February 14, 2013
Pageonce, the company behind the award-wining mobile app Pageonce - Money & Bills, today introduced the capability to pay individuals and small businesses through its new Pay Anyone service. In addition to supporting thousands of national and regional bills, Pageonce now allows users to pay local bills such as rent, gardeners, piano teachers, pre-schools, sports teams, and more.
Paying local organizations, small businesses, and individuals is still largely done via paper checks. In the US, consumers write an estimated 11 billion checks per year to small businesses and individuals, representing trillions in payment value (source: Fed Payments Study, 2010). However, checks are rapidly becoming obsolete and cumbersome in the digital age, with more than fifty percent of consumers citing they don't use or rarely carry a checkbook (source: Fiserv's 2013 Household Biller Survey). Already processing over $1 million in bill payments per day, Pageonce is far simpler and more convenient than writing a check. All that is required is the payee's e-mail address or mobile phone number.
"We want to make it easy for consumers to pay locally", says Guy Goldstein CEO at Pageonce. "This is a huge opportunity to expand Pageonce into a new market that screams for digital innovation and brings us closer to our vision of enabling users to pay anyone with any payment source from a mobile device."
Great for Consumers, Even Better for Local Billers
Pageonce also solves a huge problem for local billers, who struggle with the hassle and cost of collecting, tracking and processing paper checks. Businesses in the US spend billions each year handling and processing paper checks. Pageonce provides a mobile alterative for local billers to engage customers, reduce costs and more efficiently collect payments.
"We use Pageonce to collect dues each fall and spring", says Kevin Moos Chairman of MVLA Soccer, "Pageonce was really easy. We avoided the hassle of collecting checks from parents, we got a dashboard to track the payments we received, and the payments were deposited quickly into our account."
Pricing and Availability
Pageonce - Money & Bills app is free to download on the iTunes App Store and Google Play Store.
About Pageonce
Bringing together personal finance, payments and mobile, Pageonce – Money & Bills is a top-rated finance app, named CNNMoney's "Cadillac of Money Management Apps", an 2012 Android Editor's Choice and Apple's Best of 2010 and 2011. Launched in 2008, Pageonce has nearly 8 million users in the U.S. and is on a mission to simplify their daily financial lives. Pageonce is privately held and based in Palo Alto, California. Pageonce is backed by Morgenthaler Ventures, Pitango Ventures, and Silicon Valley angel investors. For more information, visit pageonce.com.
Please direct any press or media inquiries to press@pageonce.com.