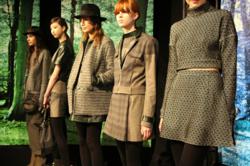 New York, New York (PRWEB) February 11, 2013
On the second day of NYFW, FashionMingle reporters analyze hot Fall trends from fresh, new designers.
Charlotte Ronson's collection was an intriguing mix of menswear inspired looks and feminine silhouettes. Charlotte's pattern choices were mostly subtle with a few abstract floral pieces. Her collection heavily focused on shiny, metallic hues of leather, either making up an entire garment or appearing as accents. One spectrum of her collection showed garments in the tan & brown color family, while the other focused on darker hues of purple & green.
Nicole Miller's collection showcased the versatility of a print, working perfectly with the silhouettes she wanted to achieve. Different from the modern, abstract prints seen in other collections, Nicole's floral choices radiated a vintage vibe, mocking the feelings incurred from viewing a brocade or damask print. The addition of Fedoras, fur & leather kept the collection modern, and the understated makeup of the models, allowed the clothes to take focus.
Rebecca Minkoff's collection heavily focused on garments in rich earth-tones hues, but allowed vibrant, bright colors such as yellow and orange to be on her Fall Wishlist of color. Her collection strayed away from excessive layering, showcasing fitted pants and dresses with trendy outerwear options and accessories. Showing her versatility and quirky side, Rebecca sent designs down the runway with oversized bold shoulders matched with cigarette pants. She stayed true to her love of mixing print, and presented a very "city girl chic" collection.
Here is a link to watch more of the Charlotte Ronson and Rebecca Minkoff Shows: https://www.youtube.com/watch?v=8PqBtdZLSpY
About FashionMingle.net
FashionMingle.net is a New York Fashion Week content provided working with partner websites to provide trend coverage, designer interviews and behind-the-scenes coverage of Mercedes-Benz Fashion Week.
The photo was taken by Melissa Shea (FashionMingle.net), and the written part was produced by Shalanda Turner.