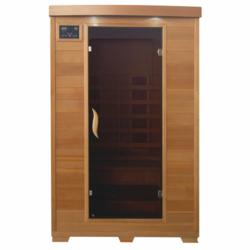 Los Angeles, California (PRWEB) February 13, 2013
Sauna usage is about health wellness and feeling better. Sauna users who sauna bathe frequently boast of feeling better, sleeping better and overall having more energy. A sauna detoxifies, restores and provides relaxation.
In today's hectic lifestyles, a sauna is a great way to relax. The health benefits of a sauna bathe are more than just relation. Saunas remove dead skin cells, improve skin tone, burn calories, remove toxins and rehydrate your skin. In addition, during a sauna bathe, the high heat increases endorphin levels; this increase creates a natural high. Endorphins can have a mild ability to soothe sore muscles and joints. Other health benefits include relieving stress, flushing toxins and fights illness such as sinus congestion.
"We carry a variety of products for the home around home recreation. We felt saunas were a nice addition since saunas provide a recreational and can be enjoyed both privately and socially. Our saunas come in a range of sizes from 2-person to 6-person saunas and can easily be moved around the home and enjoyed year round," says Co-Founder and EVP of Sales & Customer Service.
##
Dazadi.com, is Internet Retailer Second 500 Fastest Growing Company as well as an Inc. Magazine 500/5000 Fastest Growing Company. Founded in the May of 2002 by four brothers, Dazadi.com is a specialized online retailer of home recreational products. "The Home of Awesome," (Dazadi.com's new tagline) sells over 10,000 unique items for the home including http://www.dazadi.com/Game-Rooms /?&utm_source=vocus&utm_medium=organic [game room __title__ game rooms] equipment (Pool Tables, Air Hockey Tables, and Foosball Tables), home gym equipment (Treadmills, Stairmasters, Elliptical Trainers), Patio Furniture, Toys and Games, and Basketball Hoops and other sporting goods.