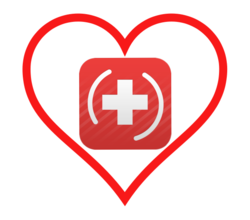 A unique way to show your Valentine that you care.
- Carol Kosterka, app creator.
Santa Barbara, CA (PRWEB) February 13, 2013
iCall4Help is a personal security app designed to provide peace of mind 24/7, 365 days a year. What could be more loving than a gift of security. Flowers and chocolates are nice but they do not last. Giving the gift of the iCall4Help app is a unique, useful and lasting way to express love and concern.
This app is great for all Valentines of any age. This smart app allows one to reach out for help whenever it's needed with the push of a button. It can be used for calling, texting, voice and email messaging to as many people as needed at once. It does not matter where the contacts are, the app works internationally. The most intelligent part of the app is that communication with contacts can happen automatically, even if one can't get to the phone or press a button. The app can also tell the contacts the most current map location so that the person can be found.
For sweethearts that hike, bike or live an active lifestyle, iCall4Help is great. For sweethearts that travel alone to unfamiliar areas, attend evening campus activities, come home late from work, iCall4Help is perfect for these and many more. The iCall4Help app will provide confidence and safety.
iCall4Help is a perfect solution for serious emergencies or minor problems. It is flexible and customizable so that the user can easily determine the type of situation to make sure that help is on the way. It also comes with the ultimate "Check-On-Me" alarm system that ensures that "you are OK." It is also fully customizable and can be used as often as wanted, even daily for anything, including things that aren't emergencies.
Keeping sweethearts connected is easy with iCall4Help. Be a romantic, give the gift of safety and security.
iCall4Help service is available 24 hours a day, 7 days a week, 365 days a year on a reliable server. It provides independence and confidence and gives peace of mind for loved ones. The app sets up in minutes and is easy to use. It gets help quickly when needed. There are no monthly fees or contracts, no installation of equipment is necessary and there are no wearable devices, bracelet or necklaces required.