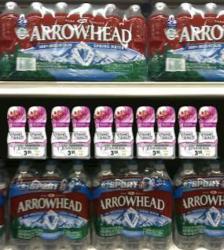 Phoenix, Arizona (PRWEB) February 12, 2013
After just a few months on the market, Vitamin Squeeze™ Powder Water Enhancers – the only all-natural water enhancer with no sugar, calories or carbs – have carved a niche in the water aisle! Safeway is dedicating 20 percent of the lineal rack space in its Water Innovation display to Vitamin Squeeze™ Powder Water Enhancers, in addition to carrying the product in the powder drink mix set. Merchandising Vitamin Squeeze™ Powder Water Enhancers in the water aisle increases sales per square foot as well as providing customers with convenience.
"By creating the Water Innovation rack, Safeway has proven to be a visionary in nutrition and healthy living," said Bill McKay, Founder/CEO of Vitamin Squeeze™. "We are honored to have been chosen as the only all-natural water enhancer to be displayed there. Vitamin Squeeze™ invented the squeezable powder and has brought excitement back to powders by squeezing out stick packs and offering all-natural ingredients that cannot be found in ordinary water and flavor enhancers."
Unlike the competition, Vitamin Squeeze™ Powder Water Enhancers contain significant levels of fresh vitamins and nutrients. Vitamin Squeeze™ has 120 percent of a day's vitamin C requirement as well as 100 percent of vitamins B3, B5, B6 and B12 and 50 percent of vitamin D per serving in addition to electrolytes, zinc and chromium per serving.
The kidneys rapidly excrete Vitamin C and B, requiring constant replenishment, which makes Vitamin Squeeze™ a vital component for consumers wishing to maintain health. Each nutrient-rich squeeze is sweetened naturally with stevia. The convenient bottles provide thirst-quenching and nutritious flavor water enhancement on the go – naturally! Retailers appreciate the versatility of Vitamin Squeeze™ Powder Water Enhancers' merchandising options that include powder drink, water or vitamin supplement category placement as well as eye-stopping point of sale displays.
Vitamin Squeeze™ Powder Water Enhancers were launched late last year and are available nationwide in Safeway stores. The eight flavors and three health-promoting functions (Energy, Multi-Vitamin and Weight Control) allow consumers to customize their hydration to meet their individual needs.
For more information about Vitamin Squeeze™, visit http://www.vitaminsqueeze.com.
About Vitamin Squeeze™
Ecosentials LLC developed the breakthrough squeezable bottle in 2012 with Vitamin Squeeze™ Liquid Water Enhancers. It used its patent pending dispensing technology to create the first-of-its-kind, squeezable Powder Water Enhancer. The line, which is unique to market because of its squeeze dispensing natural powder, is available in Multi-Vitamin, Energy and Weight Control formulas. Vitamin Squeeze™ Powder Water Enhancers are a delicious way to add vitamins C and B to your drinking water, which are clinically proven to be water-soluble vitamins that the body requires to be replenished throughout the day. The portable on-the-go bottle makes it easy to transform water into a nutrient enhanced beverage anywhere, anytime. Benefits include multi-vitamin, energy and weight control. When hydrating, remember: A Squeeze Is All You Need™ for delicious custom flavor and benefits.