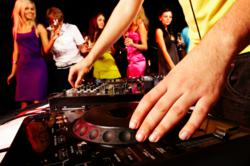 Newport Beach, CA (PRWEB) February 12, 2013
Times have changed and so have wedding trends. Where it was once unheard of to go without a live band at a wedding, it is now commonplace to hire a DJ instead, finds Wedding.com.
In the age of mp3s and instant access to a plethora of music at the click of a button, wedding DJs have grown in popularity in recent years. Couples looking to hire DJs in place of a live band should take time to research prospective candidates, read reviews, and consider recommendations from other brides and grooms in the area. After a DJ is chosen, it is best to spend time with the vendor to go over lists of acceptable and unacceptable music for the wedding. DJs have a better grasp of what the job entails when their clients provide them a list of specific songs to play (or not to play) as well as detailed instructions of what is expected of them (http://www.huffingtonpost.com/sandy-malone/5-tips-for-getting-the-most_b_2649718.html?utm_hp_ref=weddings&ir=Weddings).
"Live bands used to practically be the only option for wedding music, but that is no longer the case. We are seeing wedding DJs steadily gaining favor in the industry," says Brett Reynolds, CEO of Wedding.com. "DJs can easily personalize a music playlist when given adequate guidelines, and most have samples of their work readily available for brides and grooms to listen to or view."
For more information about Wedding.com, please visit http://www.wedding.com.
About Wedding.com
Wedding.com is an innovative new website that connects engaged couples planning their wedding with wedding vendors looking to grow their business. Wedding.com contacts vendors for couples, giving them the power to compare and negotiate while ultimately saving time and money. With 12,000 couples and 22,000 vendors currently using the website, 105,000 proposals have already been sent since their inception. Vendors range in services from wedding planners, photographers, florists, and DJs to custom invitations, party favors, and much more. For additional information about the company and its services, please visit http://www.wedding.com.