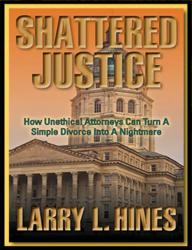 Camarillo, CA (PRWEB) February 14, 2013
The legal drama continues with the famous trial lawyer from his first novel, Dillon Clark, who joins up with Kelly Parks, a law student by night and paralegal by day. As a team, they desperately try to help Kristin Adler and her son, who lost millions in a divorce that turned into a disaster because her case was assigned to the Honorable Jeffrey Ross, an incompetent judge who is biased against women, and whose weaknesses are ruthlessly exploited by the husband's lawyer, Peter Novak, who does not hesitate to leap over ethical boundaries to insure victory.
In this fast moving drama, Kristin Adler runs into the final barrier faced by millions of women in complex divorces: only those who can afford to pay for a top lawyer can truly protect their rights; and those that can usually win.
Readers that enjoy a cliff-hanging story, a fast-paced legal drama of the John Grisham genre, and don't mind a few tears, will thoroughly enjoy this novel. And as a bonus, the reader will not only enjoy a good story, but will also get to help the orphans who live in the terrible slums of Nairobi.
Larry Hines has been a trial lawyer for over forty years and now lives in Camarillo and La Quinta, California. He is also the founder and president of the Nadine Griffey Academy of Kenya (http://www.nadinegriffeyacademy.com). As with his first novel, all profits from this novel go to the Academy which is devoted to helping orphans who live in the slums of Nairobi. Anyone interested in helping these orphans can see the full story by going to the Academy's website and acquiring a 30-minute documentary entitled "Breaking the Cycle of Poverty." A nine minute version is also posted on the website.
Larry Hines is available for interviews involving his new novel as well as what the Nadine Griffey Academy of Kenya is doing to help the orphans who live in the slums of Nairobi.