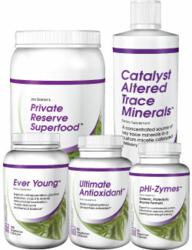 We go to extremes to provide unique, cutting-edge herbal and nutraceutical formulas for when second best is not an option.
Las Vegas, NV (PRWEB) February 12, 2013
Baseline Nutritionals® announced today the availability of its nutraceutical herbal supplements across Europe through NutriStamina. NutriStamina, a sports medicine clinic in Ostrava, Czech Republic, has been selling the company's herbal nutrition supplements to its patients, including professional athletes, and has seen impressive results over the last year. The company will continue to support the use of Baseline Nutritionals'® herbal supplements as the premium nutraceuticals choice for its patients and customers across the European Union.
"Our patients demand the most cutting-edge wellness programs for performance enhancement and recovery. We understand that sports medicine must go beyond injury prevention. Physical activity, athletic performance, and recovery from exercise are enhanced by optimal nutrition and nutraceuticals," said Dr. Radan Gocal, Sports Medicine Doctor for NutriStamina. "Our evidence-based, rigorous analysis showed that Baseline Nutritionals' supplements are the best in the world for our patient's performance enhancement and recovery goals. We are excited to not only support our local patients, but to offer these nutritional remedies to anyone in the European Union."
NutriStamina focuses on several key supplements. For healthy intestinal health and digestion, they focus on Baseline Nutritionals'® Probiotic Formula. For optimum nutrition and recovery, they recommend the Private Reserve SuperfoodTM formula, Ever Young, AcceleratorTM with ultra-long-chain carbohydrate nutrition, and Ultimate AntioxidantTM. For immune boosting, they offer Immunify® and Super ViraGon® formulas. They also offer Baseline Nutritionals'® complete suite of detoxing products.
"We go to extremes to provide unique, cutting-edge herbal and nutraceutical formulas for when second best is not an option," stated Jon Barron, product formulator for Baseline Nutritionals®. "The results we have seen in the athletic performance sector with our formulas is miraculous. We are excited to partner with NutriStamina and together fulfill the growing demand for our premium formulas in Europe."
Although Baseline Nutritionals® is primarily a supplement company designed for optimum health and disease prevention, NutriStamina is not the first company to use Baseline Nutritionals'® products for overall athletic performance. Kelly Benefits Pro Cycling Team, based in Minneapolis, also saw impressive performance results from the use of Baseline's products. Now, thanks to NutriStamina, customers and athletes across Europe can enjoy the same performance benefits experienced by athletes in the US.
European customers can order their products through NutriStamina's website found at http://www.nutristamina.cz/
About Baseline Nutritionals® (http://www.baselinenutritionals.com/)
Baseline Nutritionals® is a world leader in cutting-edge, pharmaceutical-grade, USP grade nutraceuticals and herbal formulas. From detoxing to superfood products, they are sold in over 30 countries.  All products are designed and formulated by Jon Barron, the Founder and Director of the Baseline of Health Foundation. Barron is editor and publisher of the Baseline of Health Newsletter and the Barron Report, which are both read by thousands of doctors, health experts, and nutrition consumers in over 100 countries. He is the author of one of the most acclaimed health books, Lessons from the Miracle Doctors. Leading product designer for many nutritional products sold globally, Jon Barron serves on the Medical Advisory Board of the prestigious Health Sciences Institute and continues to formulate cutting-edge nutraceuticals for Baseline Nutritionals®. For more information, visit http://www.baselinenutritionals.com/.