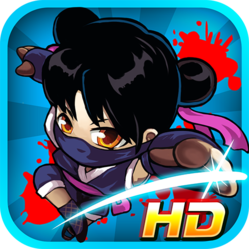 This is a fast paced action game, that keeps you
on your toes.
Lisarow, NSW, Australia (PRWEB) February 13, 2013
As the market for poorly produced zombies games seems to grow, this surprisingly entertaining new game has put the fun back into game play. The makers, Tall Fence Studios, attributes the influence of movies such as 28 days later, Evil Dead and Zombieland and TV shows such as Walking Dead to help drive the development of the game play, story and the free items in the game.
With its stunning HD graphics (that even look great on iPad Retina), brilliant music, sounds, effects and dynamic game play, Ninja vs Samurai Zombies captures audiences, as they desperately try to kill the Zombies on every level and increase their skill and endurance to reach the ultimate kill - Hanzo and Mizuki's Zombie father.
"Ninja vs Samurai Zombies has a full story line, comic, tutorials this game has already proven to be a smash hit with the gaming community, reaching #1 in category and #44 for All Games. With such huge appeal on all demographics there is a great adaptation from the community." says Matt Weight, Director of Tall Fence Studios.
The game begins with a comic telling the story of a master ninja who returns home to find two orphans in need, waiting for him. The orphans are taken in as his own children, and are taught the way of ancient martial arts. After training one day, Hanzo and Mizuki return to find their village on fire and the village full of zombies. When they find their father, they realize he has been transformed into the Big Boss Master Zombie and they must kill their father to cure their town of the zombie disease.
To master Ninja vs Samurai Zombies, players need not only be quick fingered, but also develop skills and employ strategy. Throw weapons such as ninja stars, slash zombies with swords, and as with most great addicting iPhone and iPad games that keep players coming back for more, there are hidden freebies to be found in game! Collect ninja scrolls to start Power Attacks and use special abilities to become Invisible, run with the super fast with Ninja Sprint, use Ninja Armor to smash through the Zombies, and Freeze Time to annihilate zombies.
Tall Fence Studios are proud to announce that Ninja vs Samurai Zombies is available exclusively through the Apple AppStore, for free. The game is optimized to work on all iPad, iPhone, and iPod devices.
ITUNES DOWNLOAD LINK: http://bit.ly/Vayjk0
------
Matt Weight
Director
Tall Fence Studios
About:
Tall Fence Studios was established with the goal of making high quality addictive mobile games on indie budgets, with one awesome idea – to make games for mobiles that we ourselves would like to play. Our mission is to come up with original ideas that would make our games stand out from the pack. We are a very small indie team trying to make the big time. Tall Fence Studios continues to make fun games which are well received by people of all ages.
Contact:
Tall Fence Studios
+61419617192