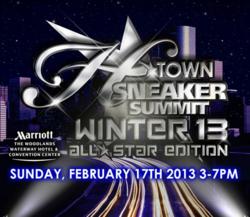 "Houston has been great to us. We wouldn't miss the opportunity to shake hands with our customers and network with some of our biggest supporters." - Ray Guilbault
Houston, Texas (PRWEB) February 13, 2013
8&9 Clothing is well known for its loyal following among east coast sneaker heads. This weekend the brand heads to Houston for the Winter edition of the H-Town Sneaker Summit. 8&9 will have on hand its full Spring 2013 streetwear collection as well as sneaker head favorites. The event takes place Sunday, February, 17 from 3-7 pm.
The H-Town Sneaker Summit is a Bi-Annual Event held in Houston, TX each Summer and Winter, where sneaker enthusiasts gather to buy, sell, trade, display, browse, and discuss rare and fashionable sneakers and clothing in a large party atmosphere. Past events included special guests; DJ Clark Kent, Bobbito Garcia, Levi Maestro, Dante Ross, Nick Diamond, D'Wayne Edwards, and of course the legendary ambassador of the South, Bun B of UGK. The show has a large following all over Texas.
This sneaker show is a favorite of sneaker heads for the great assortment of vendors and collectible sneakers that range from Nike, Jordan, Adidas and more. Attendees can also expect a range of streetwear brands including local 8&9 Clothing. Founder and creative director of 8&9 Clothing says of the Sneaker Summit, "Houston has been great to us. We wouldn't miss the opportunity to shake hands with our customers and network with some of our biggest supporters."
For more information check out http://www.htownsneakersummit.com/ or ww.8and9.com also follow 8and9 on instagram for twitter for more details.