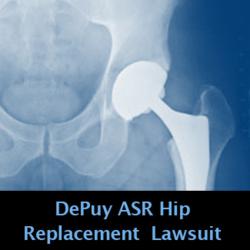 If you or someone you love were injured by a DePuy ASR hip replacement recall device, please visit yourlegalhelp.com, or call toll-FREE 1-800-399-0795
Columbus, OH (PRWEB) February 12, 2013
Wright & Schulte LLC, an experienced defective medical device law firm, is warning individuals affected by the DePuy ASR hip recall that the devices could have an early failure rate close to 40%. According to a recent report from The New York Times, documents disclosed last month ahead of the first-ever trial involving a DePuy ASR hip replacement lawsuit included a Johnson & Johnson analysis that was conducted in 2011 that found 37% of the DEpuy ASR replacement hips would fail within five years of implantation. The analysis was never made public, and seems to contradict Johnson & Johnson's continued assertions that it has been forthright in its handling of the DePuy ASR hip replacement recall.
[http://www.nytimes.com/2013/01/23/business/jj-study-suggested-hip-device-could-fail-in-thousands-more.html?_r=1&
Wright & Schulte LLC is representing individuals affected by the DePuy ASR replacement hip recall. For more information about DePuy ASR hip replacement lawsuits, or for a free case evaluation, please visit yourlegalhelp.com.
According to The New York Times, Johnson & Johnson and DePuy Orthopaedics issued a global recall for 93,000 DePuy ASR hip replacements in 2010. At that time data from the National Joint Registry of England and Wales indicated the hips' 5-year-failure rate was around 13%. However, in 2011, the same registry issued an update, warning that the DePuy ASR was failing in a third of patients who had it the longest. However the estimate was challenged by DePuy, despite the findings of Johnson & Johnson's own internal analysis.
The DePuy ASR hip replacement implant is a metal-on-metal device, a class of hip replacement implants that are currently the subject of a U.S. Food & Drug Administration (FDA) safety review. On January 17th, the FDA warned that metal ions shed from metal-on-metal hip replacements can cause soft-tissue damage and pain, possibly leading to revision surgery to replace the implant. Recipients of these hip replacement implants should consult their doctor if they experience new or worsening pain, swelling, numbness, noise (popping, grinding, clicking or squeaking of your hip), and/or change in their ability to walk. Those with symptoms of a failing implant should be considered for metal ion testing, the FDA said.
[http://www.fda.gov/MedicalDevices/Safety/AlertsandNotices/ucm335775.htm
The agency also warned that the metal ions shed from the hips could cause systemic reactions in other tissue and organs if they travel through the bloodstream to other parts of the body. Because of this risk of systemic reactions, the FDA is recommending that patients inform their doctors that they have an all-metal hip if they experience changes in general health, including new or worsening symptoms outside of their hip.
The DePuy ASR replacement hip and other metal-on-metal hip replacements currently on the market were approved via the FDA's 510(k) process, which does not require a device to undergo human testing if it is similar to a product already approved by the agency. In its January 17th Safety Communication, the FDA said it was also proposing a rule that would make metal-on-metal replacemnet hip implants ineligible for 510(k) approvals.
About Wright & Schulte LLC
Wright & Schulte LLC, an experienced defective medical device law firm, is dedicated to the belief that America's legal system should work for the people. Every day, the attorneys of Wright & Schulte LLC stand up for the rights of people who have been injured or wronged by defective drugs and their side effects, complications from defective medical devices, and unsafe consumer products. Wright & Schulte LLC fights tirelessly to ensure that even the world's most powerful corporations take responsibility for their actions. If you're looking for a law firm that will guarantee the aggressive and personal representation you deserve, please do not hesitate to contact Wright & Schulte LLC today. Free DePuy ASR ReplacementHip Lawsuit evaluations are available through yourlegalhelp.com, or call 1-800-399-0795.
Contact:
Wright & Schulte LLC
812 East National Road
Vandalia, Ohio 45377
1-800-399-0795