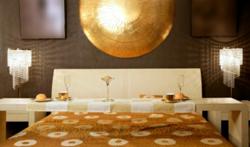 If the Year of the Snake and its trends are in alignment, it might be the time for a major change, a home redo that will last for years.
San Francisco, CA (PRWEB) February 12, 2013
To begin, this year, 2013, according to the Chinese Lunar Calendar, is the Year of the Snake, the black or water snake to be specific. In terms of color, 2013 is the year for emerald green, selected by the professional members of the style and design councils. Some designers predict that emerald green will become the new black, a subtle tie to this year's lunar element/animal. The home and decorating magazines in 2013 will feature beautiful rooms with new furniture and home décor pieces showcasing emerald green. And visibly interwoven into an array of striking patterns will be royal blue, yellow, gold, light blue, as well as grey. The style and design councils, made up of fashion and interior design professionals, have selected these colors to be prominent this year as an aid to design industry manufacturers. Grey has been a popular neutral color, and black and white will always be the sophisticated color combination. These colors will be woven and printed in patterns reminiscent of classic designs from Morocco, Egypt, Spain and the Far East. The Year of the Snake influenced trends are on display now at KindaChic.com, an online home décor and furnishings website.
What should be done if current trends do not appeal or inspire everyone? For example, the use of reclaimed wood for home interiors and exteriors has limited appeal among interior designers. Just as individuals may skip this year's fashion predictions, various retailers will also follow their own personal tastes in product selections. Plus, to follow each trend could break the piggy bank or create visual chaos in a home. But certain fashions can coexist if the current trend provides inspiration. A smart design might be a traditionally furnished room in subdued colors that can easily be augmented or updated in small ways by the current fashions. The color trends of 2013 will be incorporated in the candles, vases, pillows, lamps, drapery, and rugs to be manufactured, décor accessories that can be easily added to a room design. If the Year of the Snake and its trends are in alignment, it might be the time for a major change, a home redo that will last for years. And KindaChic.com is just the place to find the traditional basics for a room as well as the latest décor accessories.
Furthermore, one of the most sustained trends of the past few years, decided by individuals rather than the design councils, has found homeowners and apartment dwellers involved in diy (do-it-yourself) decorative projects such as the restoration of vintage furniture. Then, these distinctive vintage pieces are paired with modern styles to create a personal design statement. Today, individual inspiration is triggered by popular movies and music, world events, international travel, economics, and regional influences at a rapid pace. Easily accessible world wide communication displays every type of information at every moment. With so much inspiration available, individual style is becoming more prominently displayed alongside professional work. And with every type of information available, every type of style is now accessible to ignite individual inspiration. To visit one of these retailers, such as KindaChic.com, is to visit a source that can help fulfill individual inspiration.