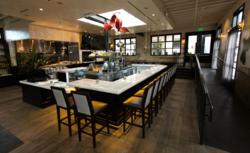 We wanted to invoke a sense of nostalgia yet be completely current
Venice, CA (PRWEB) February 12, 2013
FEED Body & Soul, designed by Malibu-based interiors firm, Platner & Co., is the latest eatery to open on the famed Abbot Kinney Boulevard. The new Venice restaurant opened for dinner February 4th and features organic and locally-sourced ingredients. Its interiors and custom furnishings have been nominated for a Calibre design award.
Platner & Co., is reputed for creating thoughtful spaces with custom architectural details, custom furnishings and sourcing rare materials. Together with DeeAnna Staats and Ralph Gentile Architects, the firm has created a bespoke environment supporting the principals of a modern and clean lifestyle. The new 2700 SF restaurant combined two former retail spaces into a seamless, light-filled interior with a center bar, table and banquette seating, prep and cook line areas, and an outdoor dining patio.
Interiors feature a modern yet inviting brasserie-like entry intended as its hub, open kitchen with French brass rotisserie, a soothing neutral color palette inspired by natural materials, use of simple, organic materials throughout, and artistic elements designed to inspire soulful eating.
"I believe design has the power to transport us, if only for a moment, to distant places or give us the feeling of being in another time," says designer Tessa Platner of Platner & Co. "We wanted to invoke a sense of nostalgia yet be completely current," Platner adds. "I think Feed, Body + Soul is uniquely contemporary with a European aptitude."
With the idea that design has the ability to elevate the mood of a restaurant and its diners, Platner & Co., chose to incorporate several visually and emotionally evocative design elements. The most notable is an original hand painted mural by Los Angeles native street and sticker artist, CRYPTIK, inscribed with the ancient spiritual chant, "OM MANI PADME HUM." There is also the inspiring 'Word Pendants' by Alison Berger etched with lines from Leonardo Da Vinci's notebooks.
"The team created a space that fits the feel of Abbot Kinney but at the same time is unique and stands out. I love the soft glow at night that makes the space and everyone in it look flawless," says Ann Karlström, one of Platner & Co.'s lead designers on the project.
Elegant smoky glass pendants and staggered infinity clusters by John Pomp softly glow as they descend from the ceiling. Hand blown glass and bronze wall sconces (also by Allison Berger) further illuminate the space. Perhaps the most visually striking design choice sits center stage—a commanding eighteen-seat center bar with 'Siberian Lynx', semi-precious solid white Brazilian quartz counter that serves as the focal point and main gathering place for perching and people watching.
The custom designed seating by Platner & Co., offers welcoming comfort and is heavy on style. Tufted banquettes and high-back dining chairs in wood and pale linen are exquisitely crafted, reflecting Platner's stand-out design virtue. Platner's custom leather upholstered bar stools are also sleek and smartly tailored. Reclaimed butcher-block table tops; situated along the back wall and exterior patio; offer a subtle variation and nice contrast to this refined seating.
A white open truss ceiling system and high windows at the street and dividing wall to the exterior patio flood natural light into the space, bringing an expansive feeling to the slightly small footprint. An ethereal wall finish achieved by a layered glazing process was used for added texture and movement to compliment the hand-painted work by CRYPTIK.
Expanding on Feed Body & Soul's idea that eating well can be a daily indulgence; Platner & Co., selected several natural and sustainable materials in the restaurant's design, revealing that "designing well" doesn't mean sacrificing on form. Custom-designed iron railings and gates, art deco inspired millwork painted black for contrast and allure, and urban custom stenciled floors are further examples of Platner's trademark touches that lift a space to an experience.
Concrete and cathedral-cut French Oak floors were chosen considering the heavy traffic flow of a bustling new restaurant. Custom designed wood millwork houses a selection of delicious take-out items and coffee to go. Lastly, the jewel box-like powder room offers a delightful surprise of stunning Regency Calcata tile with a sleek polished marble vanity.
Design Team: Peggy Platner, Tessa Platner, Ann Karlström.
For press inquiries contact Shaun Thompson at Shaun Thompson PR: (310) 838-0444 or email: shaun (at) shaunthompsonpr (dot) com. For design and source information contact Tessa Platner: (310) 456-7550 or email: tessa (at) platnerandco (dot) com.
About Platner & Co.
Platner & Co. is the premier, full-service, Malibu interior design firm known for its ability to create sophisticated residences and commercial spaces with high-end custom furnishings and materials, antiques, and exquisite architectural design. Platner & Co. provides services in all aspects of design from interior & exterior architectural detailing, to complete remodeling, space planning, color consultation, antique acquisition and 'smart home' design. Believing style does not have to be compromised for sustainable, eco-friendly, or ethical products and materials; Platner & Co. also offers high-end sustainable design. Platner & Co. is located in Malibu, California in the historic Malibu Country Mart.
About FEED, Body & Soul
Feed Body & Soul is inspired by the belief that eating well can be a daily indulgence. DeeAnna Staats, Lynn Saunders and the entire Feed team are pioneering a unique and contemporary concept for the food-service industry: forging relationships through food, conversations, and social responsibility. Feed's mission is based on quality ingredients, simple preparation, a comfortable atmosphere, and a service experience that supports our principles of a modern & clean lifestyle. We care about the health of our guests, our local community, and the global community as a whole. We want every customer to feel like they are coming home each time they step through our doors. We strive to satisfy their palates and comfort their souls; we want to make our customers happy. Feed Body & Soul is about eating well, feeling good, and doing good.
About Ralph Gentile Architects
Ralph Gentile Architects is a small, dynamic architectural and interior design firm in Los Angeles, specializing in restaurant, night club, hotel, spa, and retail store design. Since 1989, the company has established a national reputation for highly creative and provocative design solutions for some of the finest clients in the hospitality, gaming, and restaurant industries.
About the Calibre Awards
The Calibre Awards recognizes and honors the excellence of project teams who have exceeded the expectations of their profession to bring interior design to life. Winners will be announced and presented the evening of The 25th Calibre Awards Gala.