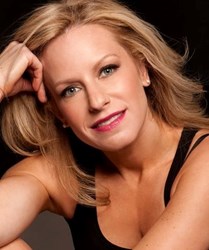 "We are thrilled Larysa is joining the Designer Whey team!" said Designer Whey's CEO Grace Jeon.
Los Angeles, CA (PRWEB) February 12, 2013
Designer Whey, the leading pioneer of natural 100% premium whey products for the last two decades, has announced a new partnership with Celebrity Fitness Trainer and Fitness Author Larysa DiDio.
Larysa will serve as key brand ambassador and positive spokesperson for Designer Whey, the creator of the delicious 100 Good-For-You Calorie™, gluten-free, naturally sweetened and flavored protein powder celebrates 20 years of helping consumers achieve their fitness goals and live healthier lives.
As a world-renowned health and fitness ambassador, Larysa is extremely passionate about her stance on living a healthy way of life. She has been featured on Better TV and in Fitness, Self, Parenting, InStyle, Women's Health, and more.
Larysa will create dynamic new initiatives with delicious incentives to make the nation healthier. With discussions already underway to create an innovative campaign launching new Designer Whey products, this partnership will create the ideal platform for both Larysa and Designer Whey to continue inspiring everyone to live a healthy and active lifestyle.
"Whey protein is a vital part of a daily diet to achieve your wellness goals, from building a lean body, managing weight, and achieving general good health for busy women and men. Designer Whey has dedicated their mission to the importance of whey protein in living a healthy and active lifestyle, and I'm thrilled to be representing such a great brand!" exclaimed Larysa when asked about her partnership with Designer Whey.
"We are thrilled Larysa is joining the Designer Whey team!" said Designer Whey's CEO Grace Jeon. "Her knowledge and expertise of women's health, family dynamics, and fitness will help generate more seamless integration of our wonderful suite of products to our time-crunched consumers."
Naturally sweetened and flavored, Designer Whey® is the perfect foundation for a nutritious, protein-packed, and delicious smoothie, at 100 Good-For-You Calories™, while being gluten-free, that's easy to incorporate into your daily fitness routine. Visit designerwhey.com for indulgent yet low-calorie recipes and expert advice in nutrition and fitness and to sign-up for monthly newsletters with tips on living, eating, and moving well.
ABOUT WHEY PROTEIN
Our whey protein is naturally derived from milk and quite possibly the most perfect protein when it comes to refueling and building a lean body. Fast-absorbing whey is a complete protein wherein it offers all the essential amino acids vital to recovery and performace. Complemented with vitamins and minerals, our whey products deliver all the necessary nutritents the body needs to recover and build lean muscle, more quickly than other types of proteins.
ABOUT DESIGNER PROTEIN LLC
Designer Whey Protein™ is a leading brand of protein powder products and a pioneer in the sports nutrition market since the early 1990's. Designer Whey has spent more than $10 million on research to find the perfect blend of nutritional whey protein with great taste. Active people who use Designer Whey protein products before and after workouts can experience increased strength, improved power, faster muscle recovery, better health and performance. Designer Whey also offers ready to drink protein shakes and nutrition bars that carry on the brand's tradition of great tasting, lower calorie, best in class products. Designer Protein, LLC also offers the popular Aria™ women's protein product. For more information visit http://www.designerwhey.com.
ABOUT LARYSA DIDIO
Larysa DiDio is a celebrity personal trainer and fitness author with over 20 years experience in helping celebrities, Olympians, professional athletes, moms, dads, and kids meet their health and fitness goals. Also an accomplished writer, Larysa has provided exciting articles and content for national and trade publications as well as blogs and websites. She owns a fitness facility in Pleasantville, NY called PFX – one of the first gyms ever to offer classes specifically tailored to kids. Larysa spends time at schools, hospitals, wellness seminars, and on television motivating and inspiring others to live a healthy, active lifestyle. Though incredibly proud of her professional accolades, Larysa's biggest accomplishments are found at home where she is mom to Nicholas, 12, and Isabella, 8. For more information, visit http://www.larysadidio.com.