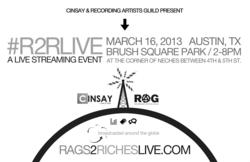 No other event in the world has ever been able to combine live music broadcast with the ability to purchase or donate directly inside the video stream and share it anywhere to anyone at anytime
Austin, TX (PRWEB) February 12, 2013
Cinsay and Recording Artists Guild (RAG) announce the world's first live streaming, social commerce music event with A-list celebrities and top musical guests set to perform March 16th. The event will be hosted live at Rags2RichesLive.com and will utilize Cinsay's patented Smart Store™ technology with expected live attendance of 500 guests and hundreds of thousands of online music fans that will be able to watch live performances, purchase band's merchandise and donate to charities throughout the day and share the video all over the world.
"This is an amazing opportunity for musicians and fans alike", said Christian Briggs, CEO and founder of Cinsay. "No other event in the world has ever been able to combine live music broadcast with the ability to purchase or donate directly inside the video stream and share it anywhere to anyone at anytime", he added.
"The partnership Recording Artists Guild has with Cinsay sets a new interactive threshold for bands and fans. Much like the way Apples iTunes created the definitive music distribution platform, Cinsay's patented video commerce technology sets the precedence for the world for music, merchandise, fans and social sharing", Said Byron Booker, CEO and founder of RAG.
Music featuring Hip Hop, Jazz, Blues, and alternative rock will be performed during the non-stop broadcast. Also at the venue, guests will have access to Cinsay's Smart Store™ bar where they can purchase event branded shirts, band's music and exclusive merchandise. Fans can even order personalized items with their own pictures and messages. Online viewers will also be able to shop and order featured apparel, iPhone covers, posters and hoodies of featured artists. During the day, visitors can also sign up for their own video commerce Smart Store and join the Recording Artists Guild. Special guests will have access to a VIP lounge and bar.
The concert will benefit local Austin charities and national music related nonprofits with each having their own video Smart Store for branded merchandise and accepting donations.
The 'Rags 2 Riches' event is open to credentialed SXSW ticket holders and the press. Gates open at 1:00 PM CST at the Brush Square Park venue in downtown Austin. Performances begin at 2:00 PM and end at around 8:00 PM. Over 12 musical artists will perform sets during the live video stream. The event will feature special guests, DJs, SXSW celebrity interviews from 2013 film and interactive sessions and the Cinsay RAGs 2 Riches music contest.
A full schedule of musical artists and hosts are being finalized and will be officially posted in the coming days. Registration to attend the event and watch online is open at http://www.Rags2RichesLive.com Follow news and updates about the event via Twitter hashtag #R2RLIVE.
WHAT: Cinsay/RAG: Rags 2 Riches Live Music Event
WHERE: Brush Square Park, 409 E. 5th Street, Austin, Texas 78701
WHEN: March 16, 2013 @ SXSW – 2:00 PM – 8:00 PM CST.
COST: Free to credentialed SXSW badge holders, invited guests and music wristband holders.
ONLINE: http://www.Rags2RichesLive.com