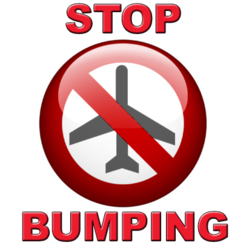 ChumpBump could put up to a billion dollars of cash in USA travelers' pockets.
Fort Worth, Texas (PRWEB) February 14, 2013
ChumpBump, a new smartphone app will expose the common and notorious practice of airline bumping and put some extra cash into USA travelers' pockets. Paul Brough who has a track record of developing successful software projects for close to two decades is looking to raise $16,000 by date through the largest crowd funding platform in the world, Indiegogo, to help him complete this amazing app.
Industry statistics indicate that 796 million people board planes in USA in 2012 and 13 out of 10,000 people are bumped; this equates to 951,000 getting bumped by airlines last year alone. Even this year, hundreds of millions of dollars will go unclaimed because travelers lack knowledge of airline bumping policies. Airlines are quick to offer travelers a few dollars in travel vouchers even though they are entitled to real compensation. ChumpBump aims to address this problem by displaying the bumping policies for each major USA airline and providing statistics about airline bumping to put up to a billion dollars of cash in USA travelers' pockets by helping people get cash instead of travel vouchers.
"We were shocked when we were informed by the gate agent that we would not be getting on the plane home after a long eighteen hour flight from South Africa. We had been bumped on our final destination flight to Dallas, Texas," says Paul Brough, who was traveling with his wife and two small boys. "Our tickets were bought four months before and in spite of that the plane took off without us." Paul was unhappy with the airline's offer to compensate the family $150 in travel vouchers and $10 meal tickets. After reading their bumping policy, Paul learned that his family was entitled to more than $150 and the family walked away that day with $3,900 in checks, not travel vouchers. Other passengers who were bumped were offered $150 in travel vouchers, and they received $550, $950, and $1000 in checks also.
Paul and his wife spoke to several people about the incident, and to their surprise nobody knew about the bumping policies. He also found there are new federal airline laws to put $650 to $1300 into passengers who get involuntarily bumped. The following day, he had an epiphany; a smartphone app that would allow people to report these airline bumpings and also share their stories and information (the airline, the time, the departure, arrival destinations, how much they received) was the best way to gets back at the airlines.
"ChumpBump will also allow passengers who get bumped report their bumping and share this info. The app will help people who get bumped for the first time and also help them avoid high bumping routes. This new app will expose the airlines bumping practices and help travelers increase their compensation for being bumped," says Paul Brough.
To help fund ChumpBump's completion, anyone can give $5, $10, $25 through Indiegogo and in return receive some cool rewards, like a lifetime membership to ChumpBump. To learn more about this new app and to help fund the project, go to http://www.indiegogo.com/projects/the-airline-bumping-app/x/771823