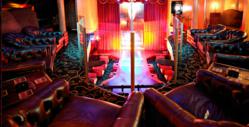 Australia's Most Beautiful Women, What Happens in Hollywood Stays in Hollywood!
Gold Coast, Queensland (PRWEB) February 19, 2013
Widely regarded as a nightclub with a difference, a multimillion dollar fit out was put in motion showcasing the iconic venue from large crystal chandeliers a 40ft two-story stage complete with waterfall, marble tiling, Italian leather lounges and a sound and light show rivaling many Las Vegas casinos. The difference in quality was obvious the moment you stepped foot inside the foyer.
Now, over a decade later, the quality and stylings of Hollywood Showgirls is still unmatched. The club is still attracting local and international visiting celebrities while boasting more models and penthouse pets than any other venue in the Southern Hemisphere.
The club owner attributes the ongoing success to keeping a safe, friendly and inviting atmosphere and sparing no expense in keeping the quality of the venue and surroundings just as impressive as the opening day.
Hollywood Showgirls have always had a loyal following with constant features in magazines and attracting great events like the upcoming Penthouse PET party.
Hollywood Showgirls marketing team have always maintained good exposure from magazines, television and radio ads to a large fan base on Facebook and a strong online presence.
As a result of a new exclusive marketing agreement recently signed, Hollywood Showgirls has contracted SERC Group Australia to implement their new SERC Technology internet marketing platform on a much larger scale.
Hollywood Showgirls marketing team have always understood that in today's world it is crucial to a company's long term success to keep a strong online presence and this new technology has already proven to be very successful and has already shown Hollywood Showgirls stronger results than ever before.