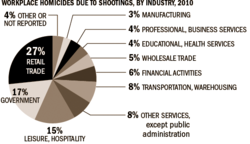 "As the nation's largest employer, the Federal Government should act as a model in responding to the effects of domestic violence, sexual assault, and stalking in the workplace," said Office of Personnel Management Director John Berry
(PRWEB) February 13, 2013
Work place violence needs to be taken very seriously both in the private sector and at government workplaces. Yesterday the Washington Post reported that new policies were being ordered for federal workplaces. Coincidently on the same day the Pittsburgh Post-Gazette published an article urging plans to prevent workplace violence.
Traditional robbery -- which usually targets convenience stores and banks -- have caused an increase in security and the recession has driven potential thieves to even more desperate measures -- targeting business offices for robbery and theft. Offices can often provide easy access for thieves looking for expensive items like laptops, cell phones and even unattended cash.
Workplace violence perpetrated by thieves, disgruntled former employees, angry customers and even bitter spouses can destroy a company's reputation along with its employee's sense of safety and security. To prevent these occurrences The Security Product Depot suggest there are a number of steps that both employers and employees working together can develop unified policies and procedures to help make their places of business safer.
Everyone being involved and knowing there is a plan in place can in itself be a deterrent to workplace violence. To start developing a plan of action here are few tips and suggestions to get started:

Take a physical security survey of your workplace and review current policies and procedures. Enlist the aid of security professionals to help identify possible security vulnerabilities in landscaping, lighting, employee and visitor access and signage.
Conduct full national background checks on all employees and contractors annually and provide yearly training on workplace violence prevention.
Install CCTV video surveillance systems to monitor both inside and outside your business. Video surveillance can be a deterrent to potential thieves. It can also be a valuable tool to help identify perpetrators and aid law enforcement before, during and after a robbery, theft or other crime.
Implement an access control system and/or a visitor management system.
Integrate these systems it with a CCTV camera system to immediately identify potential treats
Safety tips for employees:

Be aware at your workplace. If you notice someone unfamiliar to your office, someone without an I.D. card or behaving suspiciously, report it to your company's security team or your supervisor. Never approach anyone you think may pose a threat.
If you ever feel unsafe walking to or from your car after work, walk with a trusted coworker or ask for a security escort.
Keep personal items such as purses and wallets in a secure place out of sight. About 75 percent of workplace violence incidents are robbery-related, so consider the use of a locked cabinet or desk drawer to secure your valuables at all times.
Request that security cameras be installed in common areas such as the company parking lot, lobbies, break rooms, and hall ways along with monitors so suspicious activity can easily be identified.
Learn and become familiar with your company's policy on evacuations and lockdowns. Knowing what to do and where to go in an emergency can save lives.
In addition to installing a CCTV system to monitor and record suspicious behavior it is also very valuable not to overlook installing good security locks and implement emergency plans, a central emergency communication point and anonymous tip lines for employees to report suspicious behavior or activity.
These are just a few steps that can deter and help to enhance workplace safety and can provide peace-of-mind for employers, employees and customers.