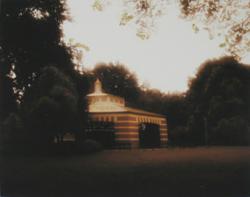 Ellen Fisch has successfully created a unique and timeless aesthetic.
New York City, NY (PRWEB) February 14, 2013
At the February 7, 2013 opening of Photographer Ellen Fisch's new exhibit "Park Slope/Prospect Park" one art aficionado enthused, "Ellen Fisch has presented us with a new art form. Her enhanced photography is subtle yet powerful; evocative and timeless; hauntingly beautiful." The photographer/artist exhibited 15 enhanced photographs of a Brooklyn neighborhood at Jadite Galleries in NYC.
"In order to grow as a photographer and as an artist, I am always exploring new approaches to my work," says architectural art Photographer Ellen Fisch. To that end, Fisch has begun to use traditional fine art media, such as pencil, charcoal, pastel and gold leaf to enhance her photography. "What I noticed is that when used as accents and in small amounts, other art materials will add depth and subtle nuances to photography."
Mixed media artists have been utilizing photography along with other art materials, such as paint, for a number of years. Ellen Fisch is quick to state that her photography is quite different than the traditional mixed-media concept that is usually associated with that art form. Frequently, mixed media is a way of combining art techniques to both highlight specific art forms, such as painting, sculpture, photography and printmaking, and create new artwork from diverse supplies. "My goal is to establish a new aesthetic by understating the combination of materials so that they converge into one image."
The photography that Ellen Fisch is currently exhibiting at Jadite Galleries is the result of many years of studying art and photography. As a photographer, draftsman, and painter Fisch secured a place of distinction in several art fields before employing her skills and talents as an architectural art photographer. "Photography is a valued art," remarks Fisch. She goes on to say that many forms of self-expression may be considered art. "Although photography is a relatively recent addition to the visual arts, it dates as a means of recording history from the 6th century B.C. In the 1800's photography began to be accepted as art," notes Fisch who has studied photography and art since she was a child. She is also passionate about history which additionally drew her to photography.
"My new art, which fuses photography with drawing and painting is extremely exciting for me." The fifteen photographs exhibited at Jadite Galleries on West 50th Street in midtown Manhattan reflect Fisch's lifelong study of art and her passion for architecture and photography. Each digital photograph was taken in the Park Slope/Prospect Park area of Brooklyn in which Fisch spent her childhood. The images were then processed by a number of applications and plugins in one of the several computer platforms Fisch uses. She then printed the completed photographs on fine art paper. Finally, Fisch drew into the photographs with charcoal, pencil, pastel and, used small touches of 12K-24K gold leaf to finish the artwork. "I think that I have developed a new way of incorporating many of the areas of art that I love into a single work." If the extremely positive gallery opening reaction is any indicator, Ellen Fisch has successfully created a unique and timeless aesthetic.
About: Ellen Fisch is a New York based architectural art photographer specializing in black and white and sepia photography that is artistically expressive, historically relevant and timeless. Fisch has recently begun to explore using traditional fine art media to enhance her photography.
To view Ellen Fisch's new, enhanced black and white and sepia photography visit: http://www.ellenfisch.com/psppenhanced.html
To learn more about Ellen Fisch and her continuing exploration of photography and art visit: http://www.ellenfisch.blogspot.com
###