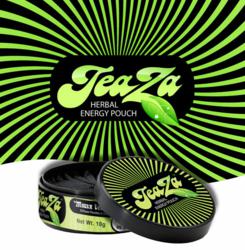 Clearwater, FL (PRWEB) February 12, 2013
As several measures adopted by the House Taxes Committee will continue to raise the price of tobacco by at least $1.5, per pack, many individuals consider kicking the habit or replacing it with healthier, safer and cheaper products that pose no risks for health or budget.
"The statistics are grim for people falling into the dangerous tobacco addiction trap", says spokesperson Trim Nutrition, a leading developer of advanced nutritional supplementation and tobacco replacements. "We created TeaZa in response to the desire expressed by millions of people to be able to gain easy access to reliable tobacco replacement products that would help them quit this habit the easy way. The results have already confirmed the efficacy of our product and its many health benefits", continued spokesperson for the company.
TeaZa is a herbal energy pouch using a unique selection of herbs, vitamins and a certain amount of caffeine to improve mental focus, sustain energy, control appetite and help reduce tobacco cravings. Mainly addressing professional athletes, online gamers, truck drivers, snowboarders, dieters and people quitting tobacco, the TeaZa multi-purpose energy pouch is a perfect opportunity to keep the mind and body satisfied and energized. Regarding tobacco addiction, it has been proven that TeaZa fills the need for tobacco and replaces the oral fixation, allowing individuals to quit using tobacco based products and turn to healthier and safer alternatives.
"Being a smoker for 35 years, from 1 to 3 packs a day, I am finding it difficult to stop and put the cigarette down. Have tried quitting a couple times ( 3 times), but always picked up the habit again after a couple weeks. With TeaZa I have reduced my cigarette use to a pack over 2-3 days and have been using the product for over a month now, very exciting to me (getting closer to quit) and even my Dr. is impressed with the outcome." – Trim Nutrition customer.
Trim Nutrition is the industry leader in developing innovative products for weight management, performance enhancement and tobacco replacement. All supplements are created by a team of renowned doctors, scientists and chemists passionate about developing products of the highest quality and effectiveness, with minimum risks for health and side effects. By using a unique combination of vitamins, herbs, micronutrients and other 100% natural ingredients, Trim Nutrition aims at changing the general perspective on wellness and on good nutrition.
For more information on the latest nutritional supplement products, please visit http://www.trimnutrition.com.
About Trim Nutrition
Trim Nutrition is a premium nutritional company and has helped thousands of people improve their wellness and quality of life. They deliver cutting edge therapies and opportunities to their customers while adhering to federal and state regulations.
Contact Information:
Trim Nutrition
Clearwater, FL
USA 33756
Phone number: 888-666-4212