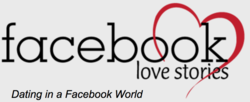 Finding Love on Facebook gives singles more options to find a date or a mate.
Los Angeles, CA (PRWEB) February 12, 2013
Finding love in the digital age includes using traditional online dating sites and mobile dating apps, as well as flirting on social networking sites such as Facebook.
Online Dating Expert Julie Spira has just launched a new series and site, Facebook Love Stories: Dating in a Facebook World.
"We've been featuring "Cyber Love Stories" for the past five years on CyberDatingExpert.com, with couples who have met on online dating sites, as well as on Facebook and gaming sites," said Spira. "We felt with the announcement of Facebook's social graph that finding love on Facebook would give singles more options to find a perfect date or mate."
Facebook reported that the majority (40.5%) of their members' status relationship changes in 2012 moved to "Single." In addition, Facebook's recent data shows that Valentine's Day is the highest day on average for people to add a relationship on Facebook, with 200% more relationships added on February 14th, compared to any other day of the year. Couples are connecting through friends-of-friends and the popular "People You May Know" feature.
Featured Facebook Love Story couples include Patience and Sam, who fell in love by connecting in the "Suggested Friends" feature 26 years after Patience had a secret crush on him in high school; Sophie and Trevor, who became friends in a Star Wars Facebook group and fell in love across the Atlantic Ocean; Lauren and Daniel, who met at an offline event, but used Facebook to flirt online by liking each others' posts; and Diva Taunia and Jake, who dated 20 years ago in college and reconnected on Facebook with the when Jake's sister noticed Taunia's relationship status changed to "Divorced."
FacebookLoveStories.com will feature dating advice on how to successfully date and flirt on Facebook, polls and quizzes, along with success stories of couples who have connected and reconnected on the world's largest social network.
Spira's site CyberDatingExpert.com was launched in 2008 to help singles looking for love online. The online dating advice site quickly rose in popularity as a lifestyle site for Internet daters.
ABOUT FACEBOOK LOVE STORIES
Facebook Love Stories at FacbookLoveStories.com is a site that highlights the romantic success couples who have met on Facebook. Couples who've fallen in love with the help of Facebook are encouraged to submit their Facebook Love Story to story (at) facebooklovestories (dot) com. Follow @FBLoveStories on Twitter and on their Facebook page.
ABOUT JULIE SPIRA
Julie Spira was an early adopter of the Internet and online dating, who created her first profile in 1994. She's the author of the bestseller, "The Perils of Cyber-Dating: Confessions of a Hopeful Romantic Looking for Love Online" and creates irresistible profiles for singles on the dating scene. Spira is a frequent guest in the media and has been featured and quoted on over 500 media stories as an online dating expert. She recently appeared in/on the Boston Globe, Dr. Drew on HLN, Good Day LA, Good Morning America, Home & Family on the Hallmark Channel, Men's Health, NPR, USA Today, and the Washington Post. Follow @JulieSpira on Twitter.
ABOUT CYBER-DATING EXPERT
Cyber-Dating Expert at CyberDatingExpert.com is an online dating advice and lifestyle site, which helps singles dating in a Web 2.0 World. Created by Julie Spira in 2008, the site features real life online dating stories in the "Cyber Love Story of the Week" and the "Peril of the Week" features. In addition, the site provides the best ways to help singles shorten their search while looking for love online and features an annual "Top 10 Mobile Dating Apps" list. Facebook.com/CyberDatingExpert