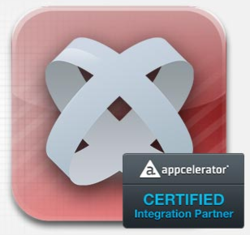 We have achieved so many milestones in the last couple of years while working with Appcelerator, and we are eager to continue this collaboration to position mobile development across markets
Austin, TX (PRWEB) February 12, 2013
"We have achieved so many milestones in the last couple of years while working with Appcelerator, and we are eager to continue this collaboration to position mobile development across markets," said Anurag Kumar, CEO of iTexico.
Silicon Valley based Appcelerator invited iTexico, nearshore technology services firm, to a Select Partner event to discuss the company's' plans for 2013. This two-day event starting today will engage strategic partners, top-level executives, and Appcelerator to establish collaborative efforts for the future of mobile.
During the meeting, iTexico will collaborate with Appcelerator's executive team during the launch of the Appcelerator's vision, product and enablement strategy as well as engaging with other leading players in the mobile development industry.
As one of Appcelerator's key Integration and Training Partners, iTexico has been a tireless advocate of Appcelerator's cross-platform mobile development technology Titanium and has promoted growth in the mobile development industry across the US, Mexico and South America.
Since Appcelerator and iTexico started working as integration partners, iTexico has successfully worked with dozens of customers on behalf of Appcelerator as a nearshore service provider with a development center in Guadalajara. Also, iTexico has been working consistently with Appcelerator to expand the Titanium community across Latin America by offering a series of official certification training classes in many regions of Mexico, Argentina and Chile. By doing so, hundreds of people have been introduced to the mobile software market and solutions.
iTexico is an Austin based initiative started with the collaboration of technology entrepreneurs and visionaries from the US and Mexico. The company aims to provide a valuable, high-quality alternative for US companies to rapidly build mobile applications and other software products as well as extending their development teams with talent based in Mexico.
iTexico started with only a handful of people with a large mission. As of the beginning of 2013, the company has now more than 60 employees and offices in Austin TX, Silicon Valley and a Development Center in Guadalajara, Mexico. The company now serves dozens of customers from all over the US and other countries in Latin America and Europe.