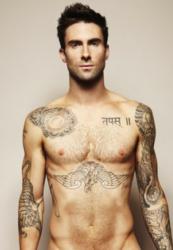 Miami Beach, FL (PRWEB) February 12, 2013
It's official, Jewish women love the bad boy. This Valentine's Day, the majority of Jewish single women on new Jewish online dating website, Jewcier.com, voted Adam Levine, the heavily inked rockstar and actor, as their ideal Valentine. Meanwhile, the majority of Jewish men polled selected Israeli Supermodel, Bar Refaeli, as the woman they want to romance on Valentine's Day. The poll was conducted on Jewcier.com and taken by more than 2500+ Jewish singles.
"As the poll results started coming in, we were convinced that Mila Kunis was going to win and would be the most coveted Valentine's Day date for Jewish singles. But, as soon as images started to go viral of her appearance in the GoDaddy Super Bowl commercial, Bar Refaeli quickly gained in popularity," said Meir Strahlberg, CEO of Avalanche, LLC. "We can only guess that her make out session with the stereotypical "nerdy" Jewish guy gave our members hope that, their own fantasy date could one day become a reality."
Following are the complete poll results:
Question: Which Jewish celebrity is your ideal Valentine's Day date?
Men Voted:
Bar Refaeli: 65%
Mila Kunis: 19%
Scarlett Johansson: 11%
Sarah Silverman: 3%
Kate Hudson: 2%
Women Voted:
Adam Levine: 55%
Joseph Gordon-Levitt: 25%
James Franco: 10%
Andrew Garfield: 6%
James Deen: 4%
About Avalanche, LLC.
A pioneer of online dating, Avalanche operates a network of 15+ general and niche dating websites. Date.com, its flagship brand, was launched on Valentine's Day 1997, and is one of the world's most popular dating sites. Matchmaker.com, started as a BBS in 1986, is the longest running dating site on the internet. It was acquired by Avalanche in 2006 and targets singles looking for love, marriage, and serious relationships. Amor.com, launched in 2007, is the leader in Latin dating. It is enjoyed by US Hispanics and Latin singles throughout South and Central America. Jewcier.com, launched in 2011, is a newcomer in the Jewish online dating space, but is already the second largest Jewish dating site. Recently, the company acquired Militarysingles.com, the largest online dating community for military singles. A privately owned company, Avalanche, LLC. is headquartered in Miami Beach, Florida.