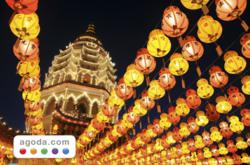 A visit to dynamic and multi-cultural Penang allows you to experience the best of Malaysia's food, architecture, history, and scenery.
Singapore (PRWEB) February 14, 2013
Agoda.com, Asia's leading hotel booking site and part of Nasdaq-listed Priceline Group (Nasdaq:PCLN), is offering up great hotel deals in Penang, an important destination for tourists heading to Malaysia's and one of Asia's most dynamic and historic cultural melting pots.
Penang has been a major hub in the development of Southeast Asia for hundreds of years, with a wide variety of traditions and customs that are woven into the very fabric of its modern culture. Centuries ago, its strategic location in the Malacca Strait – still one of the busiest and most important maritime passageways in the world – ensured that merchants from China to Persia to Africa traded and mingled on their years-long expeditions to acquire spice, fabric, wood, ivory, perfume, gems and other valuables. Many of them merely passed through on their journeys, but many settled here, adding to the vibrant mix of backgrounds and skills that the locals possessed.
Today, the state of Penang is a major part of Malaysia's multi-cultural identity and one of the most economically important parts of the country, with a modern transportation and communications infrastructure. The state consists of two parts – the mainland area, called Seberang Perai, and Penang Island, home to the capital city of George Town. This is where most tourists head, arriving via ferry, plane or the highway bridge that connects the two areas.
But don't be misled by talk of a vibrant, modern destination – Penang still offers plenty of historic neighborhoods and antique houses, many of which can be seen via several well-known Heritage Walks that wind through some of the more interesting neighborhoods, markets, and hidden corners of Georgetown. And if the buzzing, steamy cities get old, there are plenty of beaches and nature walks within Penang National Park, which offers a wealth of distinct plant and animal species, not to mention pristine jungle and warm, blue water.
And of course, all of this is supplemented by some of the most delicious and varied food one can imagine. With influences from Indian, Chinese, Malay, and Thai cuisine, among others, an amazing meal is never too far away – indeed, it's usually one of the highlights of any trip!
To see this amazing part of Asia up close, Agoda.com is providing some great deals on superb hotels right in the heart of the action. Check them out below and get ready for a cultural adventure that only Penang can offer.
Bayview Beach Resort 4*
Book now for a 23% discount. Expires June 14, 2013.
Bayview Hotel Georgetown 4*
Book now for a 23% discount. Expires June 14, 2013
Hotel Equatorial Penang 5*
Book now for a 50% discount. Expires December 31, 2013.
Naza Talyya Seaview Beach Hotel 3*
Book now for a 50% discount. Expires August 24, 2013.
Straits Quay Hotel 4*
Book now for a 50% discount. Expires June 30, 2013.
23 Lovelane Penang Hotel 5*
Book before November 31, 2013 for a 50% discount. Expires December 31, 2013.
Tune Hotel – Downtown Penang 3*
Book before March 31, 2013 and enjoy a 40% discount. Expires December 31, 2013.
G Inn 3*
Book now for a 42% discount. Expires December 31, 2013.
To connect with Agoda.com for special deals on hotels worldwide, please visit Agoda.com website at http://www.agoda.com. Click Like on Facebook at http://www.facebook.com/agoda or Google+ at http://plus.google.com/+agoda