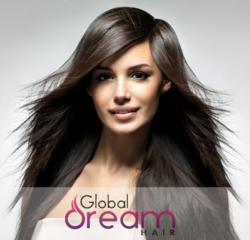 "We're proud to stock and carry brands like Melrose Hair® that we and our clients have a high degree of confidence in".
Tornto, Canada (PRWEB) February 13, 2013
Global Dream Hair is pleased to announce the launch of its online shopping store at http://www.globaldreamhair.com, offering exclusive hair products, hair extensions, and related accessories.
Personalized Attention
"We're dynamically engaged with our loyal customers through our website and online shopping portal by offering our free colour matching service for our clients, as well as seasonal and trendy hair advice from our expert style consultants," reports Scarlet Chu, Director of Public Relations. "Our global client base has quickly discovered that one does not need to visit a traditional hair salon or beauty supply store to satisfy their need for high quality and affordable hair extension and related needs. We bring these modern elements of hair care and style directly to our clients' desktops."
Diverse Range of Hair Products
Offering 100% Remi-quality human hair extensions of varying lengths and colours, clip-in extensions, feather hair extensions, wefted hair extensions, tape hair extensions, and fusion bond extensions, Global Dream Hair is proud to carry the Melrose Hair® line of products and accessories. Additionally, Global Dream Hair also offers hairpieces, wedding hair extensions, wigs, colour rings, accessories, hair tools, and caters to women looking to accentuate their look with colour and highlights.
Melrose Hair and Quality Assurance
"We're proud to stock and carry brands like Melrose Hair® that we and our clients have a high degree of confidence in. When purchasing a bespoke product like a hair extension electronically, consumers need to be certain that the product has undergone rigid quality assurance process at the manufacturing level. By teaming with Melrose Hair® and other fine companies that maintain this commitment to product quality, we are able to provide our clients with the level of satisfaction required by the most discriminating consumers," adds Scarlet Chu.
Global Dream Hair offers free shipping to the U.S. and Canada on orders above US$ 79 and it maintains a flexible refund policy to help achieve a 100% customer satisfaction rating.
Visit Global Dream Hair at http://www.globaldreamhair.com today for your hair extensions needs.
Contact:Scarlet Chu, Director of Public Relations
Email: media(at)globaldreamhair(dot)com
Website: http://www.globaldreamhair.com