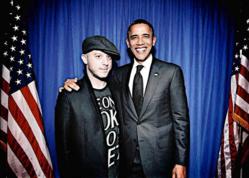 (PRWEB) February 12, 2013
Emerging boutique DJ agency Table Manners, today announced the addition of noted performer Adam 12 to its lineup of DJs. Adam 12 is well known in Los Angeles and throughout the country as an iconic figure, serving as President Barack Obama's personal DJ. He has performed for luminaries like Madonna, Puff Daddy and Prince and has been an established DJ and production professional for decades. As part of the Table Manners team, Adam 12 will continue to break down musical barriers and create innovative new sounds and trends for a brand new generation of music fans.
Adam 12 first rose to national prominence in the early 1990s and was a favored DJ of Prince, Madonna, Puff Daddy, Stevie Wonder and Dr. Dre. Over the years, Adam 12 has refined and honed his talents and expanded into the field of producing, working with modern artists that include Beyonce, Mos Def, Placebo and Sean Lennon. Adam 12 is also a founding member of the band She Wants Revenge, which recently went on tour with Depeche Mode and is considered one of the breakout success stories of recent years.
Table Manners is an established resource for top-quality entertainment throughout the industry and boasts an unparalleled lineup of the hottest names in the DJ industry. Adam 12 is just the latest addition to a team that already includes the likes of Serafin, DJ Chris Kennedy, Bizzy, Alex Merrell and DJ Kayper. For large-scale public events and private parties, Table Manners is the ideal source for cutting-edge performances that push the envelope and deliver an unforgettable experience for those lucky enough to attend.
About Table Manners:
As a top DJ entertainment firm, Table Manners is constantly striving to expand the boundaries of DJ entertainment and to provide a more inclusive and exciting experience for its clients. Table Manners delivers outstanding DJs and unforgettable performances for a wide range of public and private events.