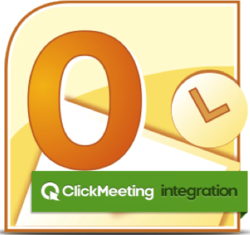 "Outlook is the favorite hub for email, calendaring, contacts tasks — and now videoconferencing." —ClickMeeting CEO Simon Grabowski
February 12, 2013- Wilmington, Del. (PRWEB) February 13, 2013
ClickMeeting, leading provider of videoconferencing SaaS, announces a new plug-in that integrates their online meeting software with Microsoft Outlook, the most popular email program worldwide.
"Our new plug-in makes Outlook even more useful," said ClickMeeting Founder and CEO Simon Grabowski. "Outlook is the favorite hub for email, calendaring, contacts tasks — and now videoconferencing."
EASY INSTALLATION
The plug-in can be used by ClickMeeting Customers who use Windows 7, 8 or Vista and Microsoft Outlook 2007-2010. To install the plug-in, users download a setup file, which runs a brief installation program. At the end of the installation process, the user's Outlook menu includes a ClickMeeting tab and optional toolbar.
ENTERING A MEETING FROM OUTLOOK
ClickMeeting users can enter their permanent meeting room from the Outlook menu or toolbar if they have one set up. If not, the system prompts them to do so. Optionally, they can click Show Schedule to view future meetings and perform setup or create invitations.
CREATING A MEETING USING OUTLOOK
When the user creates a new meeting or webinar from the Outlook menu, a pop-up screen requests a meeting room name, time and date, duration, and "lobby" message. A drop-down menu lets the user choose whether the meeting is free to all, password protected, or token protected.
INVITING PRESENTERS AND PARTICIPANTS
After choosing or creating a meeting, the user clicks a link to create invitations. The system opens a new email and pre-populates it with basic information about the timing and purpose of the meeting. It includes buttons the participant or presenter can click to accept or decline the meeting. The "To:" and "Cc:" fields are used to enter email addresses or select recipients from the Outlook Contacts database.
CUSTOMIZING INVITATIONS
Because the invites are Outlook emails, they can be customized with logo, text, images and links — as plain or fancy as desired.
When finished with customization, the user clicks the "SEND" button. The meeting is automatically posted to the Outlook calendar.
"Our previous integration projects have been hugely popular with our user community," said Simon Grabowski. "The Outlook plug-in will soon be followed by an expanded interactive survey tool and screen sharing feature re-designed for speed and efficiency."
ABOUT CLICKMEETING AND CLICKWEBINAR
True to its slogan — World Easiest Online Meetings — ClickMeeting includes presentation tools, meeting room re-branding capabilities, desktop sharing, chat translation in 52 languages, interactive polling, free mobile apps and a one-click recording feature including free hosting, all in an easy, web-based format. ClickMeeting uses Cloud Technology to stream meetings and webinars to participants from the server located nearest them, for dependable connections and audio/visual quality that's like being there in-person.
Follow link to company website for: ClickMeeting 30-Day Free Trial, No Credit Card Required
ABOUT THE COMPANY
ClickWebinar and ClickMeeting were developed by parent company Implix, a leading provider of practical, cost-effective software solutions for small businesses. With more than 500,000 users, ClickMeeting's Cloud technology facilitates face-to-face online collaboration anytime, with participants anywhere in the world. Standard packages accommodate from 2 to 1,000 participants, with custom plans available for audiences larger than 1,000.
For more information, please visit http://www.clickmeeting.com/