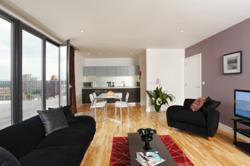 (PRWEB UK) 13 February 2013
Just three years after establishing its serviced apartments in Piccadilly in the heart of Manchester, SACO the Serviced Apartment Company are delighted to announce that it's moving locations to offer even more apartment accommodation.
Currently based at The Hub in Piccadilly Place with 48 apartments - in the summer SACO will move 200 metres down the road to Minshull Street, opposite Manchester Crown Courts and will offer 63 brand new, contemporary one and two bedroom apartments on a serviced basis.
Lesley Freed, CEO, SACO said, "For some time we have wanted to expand the number of apartments on offer to our customers in Manchester, and we're delighted that we have now found the right location and building to do this in."
"What's more we are able to develop the building and apartments to our own high standards and specification – based on our knowledge and experience gained over the sixteen years we have been operating. This will result in a fantastic customer experience for anyone staying with us".
The new building – formally known as Abacus Court, but to be known as SACO House going forward – will be well placed to continue attracting both business and leisure travellers who want to be centrally located and within walking distance of Manchester Piccadilly Railway station.
Facilities will include 24/7 reception, car parking, Wi Fi, Gym and coffee shop.
Vicki Cook, New Business Director of Magnus confirmed that SACO have taken a new 15 year lease at Abacus Court over ground and five upper floors.
She added, "The timing was right for SACO and for us as we were considering the future of Abacus Court following the vacation of PWC (Price Waterhouse Cooper LLP). The whole transaction moved very quickly through legal and planning as all parties worked closely together with a common goal for Magnus to deliver to SACO 63 apartments by summer 2013."
Ed Lockyer, Magnus Estates Director, commented that Barnfield Construction had been appointed as main contractor on the £3.5M project with an imminent start on site planned.
"This is a complex transition from an existing office building to Apart Hotel use which is further complicated by the timescales involved. We have effectively condensed an 18 month pre-construction procurement programme into 6 months along with targeting a very tight Practical Completion date of the end of June 13. Our legal and design teams have pulled out all the stops out to overcome many challenging hurdles and a great deal of credit must be granted to them."
The deal was introduced to Magnus by Patrick Joynson of Savills, who has previously represented SACO elsewhere in the UK. He commented "This is a win win situation. As SACO's lease at 5 Piccadilly ends, they can be up and running for existing and new clients at nearby Abacus Court. The city gains more bedrooms to satisfy growing business/leisure demand and loses 42,000 sq ft of secondary office space to let during difficult market conditions."
For more information please contact Clare Carpenter at SACO Serviced Apartments on 0117 974 5936 or e-mail ccarpenter (at) sacoapartments (dot) com.
SACO Serviced Apartments:
SACO is a market leading and award winning Serviced Apartment company, providing the smarter choice between home and hotel for leisure and business travellers.
SACO both operates its own portfolio of over 600 apartments, and has a global network of over 20,000 apartments across 156 key destinations in 42 countries through carefully selected network partners.
The company prides itself on delivering the best customer experience and being admired for its expertise, product and people.
SACO was founded in 1997 by CEO Lesley Freed. The company's corporate headquarters are in Bristol and it employs over 150 staff.
Images available on request.