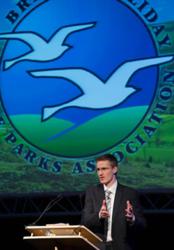 "If parks haven't already done so, 2013 is the year to start using Social Media - if parks are already using it, 2013 is the year ramp up their social presence and really start engaging with their followers!"
Dorchester, Dorset (PRWEB UK) 13 February 2013
Dorset social media agency Key Multimedia were invited to attend this year's British Holiday and Home Parks Association annual conference in Belfast to discuss with members the vital importance of social media and TripAdvisor in today's industry.
Holiday parks had a troubled year last year, with bookings adversely affected by everything from the weather to the recession and the Olympics. Parks are looking for new ways to increase bookings and compete against cheap overseas holidays with the guarantee of sunshine, leading to unprecedented interest in social media and the opportunities it offers for promotion and engagement.
Key Multimedia gave four seminars over two days, covering all the major social media platforms, as well as TripAdvisor and other review sites. The sessions sparked lively debate, as park owners took the opportunity to voice concerns, ask advice and share ideas on a wide range of social media topics.
Social Media
Today's consumer is more connected than ever before. They are using the web to access and share information with friends and colleagues, and social media is one of the most important mediums allowing them to do this.
When it comes to planning and booking a holiday, consumers are now asking their friends for advice on Twitter and Facebook, and getting recommendations from reviews and forums before making a purchasing decision.
David Lakins (MD of Key Multimedia) said "If parks haven't already done so, 2013 is the year to start using Social Media - if parks are already using it, 2013 is the year ramp up their social presence and really start engaging with their followers!"
TripAdvisor
Reviews have become deeply embedded in the way the web works, and consumers now feel empowered to share their opinions and experiences online.
Sites like TripAdvisor make this incredibly easy to do – for example users can now snap a photo and write a short review on their smartphone, and upload it via the TripAdvisor app at the touch of a button.
This presents a challenge for parks in terms of reputation management, because unflattering feedback can create a negative perception of a park, which can deter people from booking.
Chris Redhead said "There are a growing number of parks which are getting proactive in their efforts and seeing significant benefits. Being aware of what is being said about your park is half the battle – so monitor the Internet space and manage your online reputation carefully.
"Using reviews and feedback to inform management decisions really does put the customer at the heart of your business"
The Key Multimedia social media presentations from the BH&HPA conference are available here on their website - for more information visit the site or give the team a call on 01305 542000