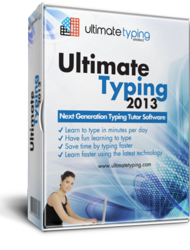 ...the developers urge people to start working on their 2013 resolutions related to typing today.
New York City, NY (PRWEB) February 15, 2013
eReflect, the company that developed typing tutor Ultimate Typing™, announced that 2013 is the official year for resolutions to become reality. Inspired by how fast and almost effortlessly people can become expert typists thanks to Ultimate Typing™ features, eReflect has announced today that when people gather all the rights tools and props, it only takes determination and persistence to realize their goals.
According to the developers of Ultimate Typing™, technology has come a long way and many people are only now taking advantage of its full potential. It might be hard to keep up with all new developments but finding the right tools to meet specific needs is never that difficult. Giving Ultimate Typing™ as an example, the developers urge people to start working on their 2013 resolutions related to typing today.
As the developers noted in today's statement, it's true that success comes most easily with the right tools and the right plan. The team at eReflect emphasized the importance of preparation as the number one factor for succeeding. The company insists that before starting to work on a goal it is first wise to gather up all necessary tools and knowledge. Taking Ultimate Typing™ as an analogy the company mentioned that no matter how hard a person might work to improve their typing speed, if they do not have the right practice tools they cannot get far very quickly. The company emphasized that with an effective set of tools, the whole goal-realizing process becomes a piece of cake. Even if a person is starting with beginner typing lessons, if the software used is efficient enough, then mastering the art of typing is only a matter of time.
The developers have concluded that instead of people being intimidated by the amount of goals they've set for 2013, they should look for the media and props that will help them achieve those goals. As they revealed, 2013 is the official year for everyone to reach their full potential. Be it a personal, professional, career or social goal, anything is possible, if the right tools are at hand.
For more details on Ultimate Typing™ please visit http://www.ultimatetyping.com/.
About Ultimate Typing™
Ultimate Typing™ software is designed specifically for the improvement of typing skills. Created by eReflect, a world leader in e-learning and self-development software, Ultimate Typing™ has been informed by the latest developments in the science of touch typing.
Since its creation in 2006 by Marc Slater, the company has already catered to over 112 countries all over the world, offering products with the latest cutting-edge technology, some of which are among the world's most recognized and awarded in the industry.