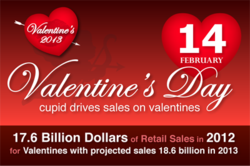 Whether it's a box of chocolates, or a bottle of wine with a romantic dinner, Valentine's Day gives a much-needed boost to the bottom line and the economy
Toronto, ON (PRWEB) February 12, 2013
CUPID DRIVES SALES FOR VALENTINES 2013
Love may not cost a thing, but consumers this year are set to spoil their friends, family and loved ones this Valentine's Day in a very big way.
Fashionistas has published an animated video info graphic providing an in depth summary of spending habits for Valentines Day.
The 2013 Valentine's Day spending survey conducted by the National Retail Federation and BIGinsight shows only a slight increase in expected sales this year from 17.6 billion in 2012 total spending of $18.6 billion.
It is expected that consumers will spend approx. $4.4 billion on diamonds, gold and silver, $3.4 billion on dining, $1.7 billion on flowers, $1.6 billion on clothing, $1.6 billion on candy and chocolate and $1.1 billion on Valentine's Cards.
Valentine's day is one of the most popular days to get engaged, according to the US Census Bureau, approximately 10% of all marriage proposals happen on Valentines Day
Travel is leading gift that romantic partners would like for Valentines, according to Expedia's – 2012 Valentines to the rescue survey, 9 out of 10 adults love a romantic V-Day getaway.
38% would like to go to the beach, 22% to a remote location, and 21% to a hotel.
Hotels.com 2012 results from the 2012 Romance Survey found that many couples like to get away for Valentine's Day, and gleaned insights into their hotel rooms with some intimate findings.
Couples were asked - What would you like to find in your hotel room on Valentine's Day ? 38% indicted Chocolate covered strawberries, 27% a bottle of champagne, 21% would like massage oil in their room.
According to the Society of American Florists Valentine's Day is the number one holiday for florists in fresh flowers, capturing 36% of holiday transactions and 40% of dollar volume.
Valentine's Day is the single largest sales day for boxed chocolate in the year as stated by The National Confectioners Association – Valentines Day Report 2012
Mobile purchases are on the rise with 40.7% smartphone owners will use their handhelds to shop for gifts and 46.9 percent of tablet owners will use their devices to purchase items, research gift ideas and more as reported by the National Retail Federation
Mobile is expected to make purchasing decisions easier for consumers this year, according to Mojiva,com's 2013 Valentine's Day In Love With Mobile a retail m-commerce snapshot. 79%, of consumers believe their mobile device will make purchasing a Valentine's Day gift easier.
Thirty-eight percent of survey respondents said that they would shop for clothing on their mobile devices, for example. Candy and perfume/cologne represented 28 percent of responses and jewelry represented 25 percent of answers.
Whether it's a box of chocolates, or a bottle of wine with a romantic dinner, Valentine's Day gives a much-needed boost to the bottom line and the economy
Sources for the video info graphic include

NRF 2013 Valentine's Day Consumer Intentions and Actions Survey
National Restaurant Association
National Confectioners Association – Valentines Day Report 2012
US Census Bureau Tracking
Society of American Florists
Expedia – Valentines to the Rescue – report 2012
2012 Romance Survey – Hotels.com
Social Media Conversations on Cupid – Radian 6
Mojiva.com 2013 Valentine's Day In Love With Mobile a retail m-commerce snapshot
Fashionistas is the next-generation channel for fashion, arts and lifestyle. It is a fashion centric social media site that reinvents the way we connect with fashion. Fashionistas provides media coverage for fashion, arts and lifestyle events.
Fashionistas offers innovative digital and social media campaigns for clients targeting the fashionistas audience, including travel, automotive, beauty, fashion and automotive.
View the video! CUPID DRIVES SALES FOR VALENTINES 2013
Contact: Sanjiv Khullar, CEO
sanjiv(at)fashionistas(dot)co
http://www.fashionistas.ca
416-885-8183
Profile