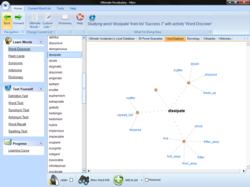 In order for the students to be fluent in a second language like English, they should put it into application.
New York City, NY (PRWEB) February 17, 2013
Modern technology continues to expand the possibilities for vocabulary research, and in the Tsukuba study, the researchers took full advantage of this fact. For their experiment on vocabulary learning processes, the researchers placed a humanoid Nao robot in the classroom with children aged 4 to 8. Using the format of an English learning game, they set up the robot to appear weak, sometimes giving out wrong answers to the children as they drew shapes corresponding to the words presented, like 'circle', 'square', or 'heart', reported the New Scientist.
The researchers noted that when the robot would commit mistakes, the children would take on the role of instructor, correcting the wrong answers. They also observed an increased confidence in the students as they shifted roles from learner to teacher, thereby yielding to a more proactive approach to learning the language themselves.
Ultimate Vocabulary Software has taken a keen interest in this innovative method, being familiar with the difficulties that both teachers and students face when dealing with vocabulary improvement.
Said company director Marc Slater, "Learning vocabulary is not something that can be done with just a few exercises. In order for the students to be fluent in a second language like English, they should put it into application. What better way for this application to commence than to have the students teaching it themselves to someone, or in this case, something that is less intimidating than an actual authority figure, as in a human teacher?"
And indeed, this is the very conclusion of the experiment made by the Japanese researchers. Because the students are placed in the role of instructor, it gives them more impetus to know the right answers for themselves, so that they can share it with their peers, or in this case, with the robot teacher.
"Ultimate Vocabulary puts a high premium on innovative means of ensuring that students will get the most efficient method possible of learning vocabulary," continued Slater, expressing approval of the experiment. "What this research has done is to open up the avenue for a teaching system for vocabulary improvement wherein the students are motivated by themselves to learn, instead of merely being forced to do it."
For more information on this review and how you can benefit from Ultimate Vocabulary, please visit its official website, http://www.ultimatevocabulary.com.
About Ultimate Vocabulary™
Ultimate Vocabulary provides a proven and powerful platform, built to improve anyone's vocabulary.
The interactive self-improvement system provides more learning tools than any other program on the market, as well as more information on words.
The Ultimate Vocabulary software provides each and every user with a personal computer tutor. Providing a step-by-step guide to learning a powerful vocabulary, Ultimate Vocabulary is the learning tool everyone can benefit from.
Of course, the software is also backed by eReflect's iron-clad money back guarantee.