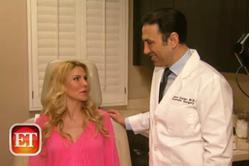 Los Angeles, CA (PRWEB) February 12, 2013
A recent Elle Magazine article discussed the best ingredients for anti-aging treatments. (go to: goo.gl/HrSFi). Consumers today are confronted with more choices than ever when it comes to anti-aging products. Before making a purchase, it is essential to understand which ingredients are most effective and therefore which products may help to turn back the hands of time.
"I work hand-in-hand with several laboratories to develop and refine the products in my Signature Series Skin Care line," says Dr. Ourian, "and I thought this article did a good job of explaining in a simple way the benefits of some key anti-aging ingredients."
Retinol is one of the most important ingredients in anti-aging products. Retinoids can improve skin texture, smooth out wrinkles, lessen brown spots and tighten pores. Retinol, derived from preformed retinoids and provitamin carotenoids, significantly reduces the sun sensitivity, peeling, and redness associated with the side effects of retinoids, while maintaining the results.
Vitamins C and E are excellent anti-oxidants; Vitamin C is used to reduce UV-induced free radicals and to help regenerate Vitamin E. Studies indicate that Vitamin E may help reduce UV-induced redness, swelling, and sunburn.
Salicylic acid works to open pores and remove dead skin cells that might otherwise lead to pimples. With salicylic acid it's important to follow the product directions carefully based on the condition and skin type being treated so as not to damage the skin.
"Whatever products one chooses," says Dr. Ourian, "I can't stress enough the importance of protecting your skin against the sun. Whether they realize it or not, most of my patients come to see me to address sun damage."
Dr. Ourian has been a pioneer of laser technology and non-invasive aesthetic procedures including Restylane, Botox, Juvéderm, Radiesse and Sculptra. These treatments are used for the correction or reversal of a variety of conditions such as acne, acne scars, skin discoloration, wrinkles, stretch marks, varicose veins, cellulite, and others. More information about Epione's anti-aging treatments can be found on their website.