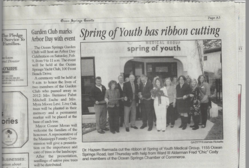 Presenting the latest aesthetic advancements, such as cutting-edge stem cell therapies...
Ocean Springs, MS (PRWEB) February 13, 2013
Spring of Youth Medical Group, a leading vein and cosmetic treatment center in Ocean Springs, Mississippi, recently enhanced and expanded their state-of-the-art facility. To commence the new year in their new setting, the center held a special Grand Re-opening Open House on January 31. Visitors and patients from across the Gulf Coast region were in attendance to take part in the exciting and successful event.
In addition to getting a first-hand look at the renovated treatment center, which has been providing Ocean Springs, MS with top-quality vein and aesthetics care for over a decade, guests were also treated to excellent food, promotions, and expert health information.
One of the biggest successes of the night came from the presentation of the latest treatments in vein health and other fields. Spring of Youth Medical Group's leading vein expert, Dr. Hazem Barmada, spoke about the diagnosis and treatment of vein disease including spider veins and varicose veins. The Mississippi Stem Cell Treatment Center and Angiodynamics, co-sponsors of the event, were also on site presenting the latest aesthetic advancements, such as cutting-edge stem cell therapies for cosmetic, vascular, joint, and other applications.
In addition, Spring of Youth's aesthetics coordinator gave guests valuable promotional items, as well as discounts on the latest treatments offered at the center for wrinkles and fine lines, age spots, sun spots, loss of skin elasticity and facial fullness, weight loss, body contouring, and more. Raffle winner, Lydia Stokes, was thrilled when she won Spring of Youth's 1-2-3 Refreshed Facial for free during the Grand Re-Opening. Spring of Youth Medical Group is constantly coming up with innovative ways to give away products and services such as facials, peels and local gym memberships promoting health, wellness and better living throughout the local community.
All of the staff and guests enjoyed a memorable and educational evening at Spring of Youth Medical Group. For those who missed the event, anyone in the Gulf Coast area suffering from varicose veins, spider veins, or who wants to achieve a healthier, more youthful appearance is invited to visit the center anytime to learn more, or receive a consultation.
About Dr. Hazem Barmada
A practicing physician for over 30 years, Dr. Hazem Barmada is a Cardio-Vascular and Thoracic Surgeon, with special interest in venous and lymphatic disease. As a Cardiac-Vascular surgeon with extensive national and international experience, he has acquired broad expertise in managing venous disease, harvesting veins, and dealing with any possible complications. Since coming to the Mississippi Coast in 2000, he developed both Vascular & Endovascular aspects of his practice including dialysis access, arterial, and venous management. Since 2009, he has focused on expanding his practice in venous and lymphatic disease, and, more recently, in aesthetics and stem cell research.
Dr. Barmada started his career in the US in 1991 when he joined the Heart Institute at St. Vincent Hospital in Portland, Oregon as a Chief Fellow working alongside the world-renowned Cardiac Surgeon, Dr. Albert Starr, the first surgeon in the world to insert a successful heart valve in the heart. He later became an Associate of Cardiac Surgery at Harvard University's Beth Israel Hospital. His prestigious awards and associations include current membership of the Society of Thoracic Surgeons, the Society for Vascular Ultrasound (SVU), the American College of Phlebology, and the American Venous Forum; and fellowship of the Royal Society of Medicine, London, England, and the British Boards in Cardio-thoracic Surgery. Dr. Barmada holds numerous degrees and credentialing certificates including a B.Sc. in Medical Science from St. Andrews University, Scotland; an M.D. from Manchester University Medical School, UK; and medical licenses of several states. He currently holds two US medical patents, and a third pending, for improved medical practices and procedures.
Dr. Barmada's practice, Spring of Youth Medical Group, located in Ocean Springs, MS, services the entire Gulf Coast.
For more information:
Spring of Youth Medical Group
1155 Ocean Springs Road
Ocean Springs, MS 39564
Tel: 228.875.0885
http://www.springofyouthmedical.com
Media Contact:
Suzanne Barmada
Tel: 228-875-0885