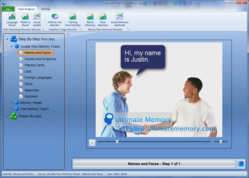 It is studies like this that give hope to those who are in danger of acquiring diseases like dementia.
New York City, NY (PRWEB) February 20, 2013
The study - which was an expansion of a 2010 research on the same topic, and published in the October 2012 issue of Nature Neuroscience – focused on understanding better how the brain works to create and use short-term declarative memories. Declarative memories are composed of the knowledge, stored in both short and long-term memory, of basic facts (people, places, dates, and events). The other kind of memory is the implicit kind; for example, the memories attached to learning skills, such as riding a bike or playing a piano.
By isolating certain pieces of rodent brain tissue, and activating one of the four pathways within the memory-storing region, the hippocampus, the stimulation proved that it is indeed possible to deliberately activate the memory cells. Even more exciting is that the researchers were able to find a way by which they can generate context-specific memories.
Ultimate Memory Software Director Marc Slater applauds this new discovery for improved memory, saying, "Thanks to this research, we are now a step closer to finding a cure for memory diseases such as dementia, Alzheimer's, and Parkinson's."
These neurodegenerative diseases, commonly associated with aging, are not necessarily fatal, but still prove to be seriously disabling. In many cases, family members are not recognized by the patient, and even the most basic skills such as tying shoelaces are forgotten. The gravity of the effects of these diseases is far-reaching, affecting even the most personal of relationships.
"It is studies like this that give hope to those who are in danger of acquiring diseases like dementia. Memories are all we can hold on to at the end of the day, and they are at the core of our skills and knowledge," said Slater. "The risk of losing memory is certainly daunting, but going through it is even more difficult. Through this development of a technique for stimulating short-term memories, and thereby getting improved memory, Ultimate Memory is ecstatic to think that we may soon see a day where forgetting is no longer going to be an inevitability we must all face."
For more information on how Ultimate Memory software can help, please visit: http://www.ultimatememory.com
About Ultimate Memory™
Ultimate Memory™ is the market's leading memory improvement software package.
Scientifically proven to improve memory with as little as ten minute's user per day, Ultimate Memory™ is also backed by an iron-clad guarantee.
Containing many innovative strategies, tutorials, tips and exercises, users benefit from a myriad of varied ways to learn.