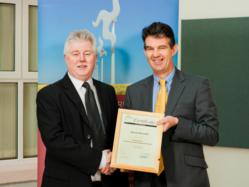 Companies can achieve savings as high as 30 per cent with the introduction of an energy management programme
Douglas, Isle of Man (PRWEB UK) 14 February 2013
Kevin Burnell, director of Isle of Man quality and environmental management company ISO QA Ltd has successfully completed the Certificate in Energy Management Principles course.
"Companies can achieve savings as high as 30 per cent with the introduction of an energy management programme," said Mr Burnell.
The course, which is subsidised by the Department of Economic Development and the Department of Environment, Food and Agriculture, was specifically designed to provide new ideas and approaches to professionals in the public and private sectors with responsibility for energy management within their organisations.
"The number of companies on the Isle of Man ignoring or neglecting the need for energy conservation is massive, the figure is close on 90 per cent," he added.
Mr Burnell is keen to spread the message of energy management and conservation to companies on the Isle of Man, which he believes can improve and protect profits with efficient policies in place to stem waste.
"It's important that companies understand where and how they are wasting energy, just what that waste is costing the business and then implement the necessary measures to become more energy efficient," said Mr Burnell.
"All too many companies just don't understand where and how to take action to reduce the waste of energy in their business; while physical waste can be seen, energy waste is invisible. In the past there has not been the same pressure on profits as there is today which is why savings in the energy bill are now vital, and in some cases may be crucial to a company's survival."