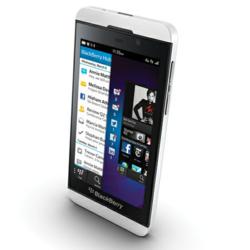 As Phones 4u is currently the only place people can get their hands on the BlackBerry Z10 in white, it has been a huge success and continues to sell extremely well.
(PRWEB UK) 13 February 2013
Phones 4u today confirms it has enjoyed an exceptional response to the new Blackberry® Z10 in both white and black, with over 55% of their 680 stores selling out of the devices during the first weekend of sales. Phones 4u has since replenished stock to cater for the high demand.
Demand for the white model is particularly strong among UK smartphone customers and Phones 4u remains the only retailer where consumers can get their hands on the white device.
Scott Hooton, Chief Commercial Officer at Phones 4u, comments: "As Phones 4u is currently the only place people can get their hands on the BlackBerry Z10 in white, it has been a huge success and continues to sell extremely well. A large number of our stores DID sell out of the white model on launch weekend, but because we knew demand was so high and we didn't want anyone to miss out on getting one, we replenished stock within hours."
"We have a longstanding relationship with BlackBerry® and we're delighted to report such a strong sales performance within less than a week of the new handsets going on sale. It's fantastic to see this consumer excitement and demand, and we're looking forward to seeing sales continue to grow over the coming weeks, particularly for the BlackBerry Z10 in white which is still only available at Phones 4u."
A survey conducted via Phones 4u's co-creative consumer panel, uBar (http://www.theubar.co.uk), has revealed that desire for a new BlackBerry smartphone handset has doubled since December 2012. The survey also highlights the top BlackBerry Z10 features driving consumer demand, with 42% of respondents voting for the BlackBerry Z10's larger screen as being one of their top three, followed jointly by the touch screen and faster mobile browsing at 40%, and its new Flow feature at 31%.
Phones 4u is the first to range the new BlackBerry Z10 in white, which is available now along with the black model too, at Phones 4u stores from £36 a month on contract, on a choice of networks. The full range is also available online.
Media Contacts
Christina Cooper / Christina.Cooper(at)colombus-comms.com / 020 7792 7465
Sophia Dryden / sophia.dryden(at)colombus-comms.com / 020 7792 7458
About Phones 4u
Phones 4u is an independent mobile retailer, offering all networks and smartphone brands and market leading choice and value. It is part of the Staffordshire-based 4u Group, and the Group CEO is Tim Whiting. Leading the way in the mobile industry through its excellent customer service, award-winning advertising and differentiated in-store experience, Phones 4u has over 600 stores in the UK and is still growing. It has recently completed a refresh of its entire store estate, with the focus now on interactivity and making the product the hero. Phones 4u employs circa 6,000 people.
Phones 4u is a truly unique brand within the mobile sector, with a distinctive youthful customer base. Awarded 'Best High Street Retailer' and 'Shop Idol' at the Mobile Industry Awards 2012, it is renowned for its success in delivering great customer service and for having exceptional knowledge of mobile products. Judges also recognised Phones 4u as being the best at motivating its people, having the best range of innovative products and services, having the most compelling and effective store formats, delivering effective marketing campaigns and demonstrating strong commercial performance.
Passionate about its customers and committed to delivering award winning customer excellence every time, Phones 4u has made its customers' needs the foundation of its business behaviour. Phones 4u was the first mobile retailer to implement NPS and led the industry in making staff accountable for the way they sell and is known for running the largest Ofsted accredited retail apprenticeship programme in the UK. Significant investment in the training and development of its people along with a 'unique to the high street' customer consultation process, delivers quality staff, unrivalled mobile expertise and advice tailored to individual customers' needs. As a result, 1 in 4 new contract smartphones sold on the high street are through Phones 4u. For more information, visit http://www.phones4u.co.uk
For regular updates on Phones 4u, follow us on:
Facebook: http://www.facebook.com/phones4u
Twitter: http://www.twitter.com/phones4u
YouTube: http://www.youtube.com/phones4u