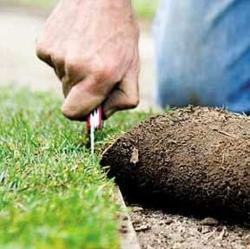 Turf Cutting is now underway again on our turf farms.
(PRWEB UK) 13 February 2013
Turf Growers, the UK's leading turf supplier, has had a full week of uninterrupted turf harvesting as the ground conditions improve. Turf farm managers have at last been able to get on the fields, using the latest low ground pressure and highly efficient turf harvesters.
"It is now possible to harvest turf on the lighter land but only using our latest low ground pressure harvester" reports turf farm manager.
The turf industry has had a hard time recently with very wet weather conditions from mid summer right through the winter causing saturated fields and making turf harvesting difficult if not impossible at times.
Wet field conditions make the turf very heavy to handle and can impair cutting of the turf, this is why we only harvest our turf when it is fit and ready to be cut and relaid. The grass varieties we use are very resilient and soon recover from any water logging as well as establishing quickly when harvested and laid on a new lawn.
Now that harvesting is underway we are sending our turf out to homes and work sites through out the country. Our hi-tech harvesting equipment and fast delivery turnaround means we are able to supply freshly cut, quality lawn turf next day throughout the country.
Customers can buy turf online or call our dedicated sales team to place an order or just ask some friendly advise.