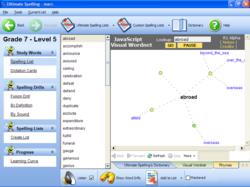 It is our duty to find effective ways to re-spark their interest in spelling knowledge and language more generally.
New York City, NY (PRWEB) February 23, 2013
Being an ardent proponent of spelling improvement, Ultimate Spelling representatives announced today their hope for that school officials in the state of Wisconsin are willing to make an effort to make spelling bee competitions popular among school children again. In their 2013 release of this popular product, the developers at Ultimate Spelling made sure that spelling-bee-style exercises were part of the package, to help children get used to the format.
When eReflect and the development team behind Ultimate Spelling statement heard that the city of Janesville announced that no more spelling bee competitions will be taking place this year at some of its schools, they were dismayed. Due to the low interest children and parents showed for this event, said Wisconsin officials, the spelling bee competition will not be held for this year, which means that no children will be sent to the national spelling competition.
Commenting today on this rather sad development, director of Ultimate Spelling software Marc Slater said, "It is rather discouraging to see how in a city full of young kids, only a handful wanted to participate in this fun and educational spelling bee competition. Officials in Wisconsin, and our society in general, need to consider why it is that children no longer care for this historically popular national event." Slater emphasized, "It is our duty to find effective ways to re-spark their interest in spelling knowledge and language more generally. Obviously, this is not just about a competition being canceled, but about the possible implications and underlying causes of the cancellation."
Whether the event will take place next year is not known right now, and it's up to the parents and the local school to re-ignite children's interest in spelling. Technology and new media are some of the ways to get children interested in spelling again. Spelling bee software is an effective and engaging way to make spelling activities attractive to children once again.
"We don't believe for a second that children will never be interested in spelling, but perhaps new ways of engaging them should be put in place. Spelling and other language games are a foolproof method for getting children into spelling once more. Spelling is a crucial aspect of literacy and children should learn to love it. Integrating new technology for teaching spelling might well be the solution, with the result that there may once again be a Spelling Bee Competition this time next year in Wisconsin," Slater confidently commented.
For more information about how technology and spelling software can improve spelling performance for you and your family, please visit the official website at http://www.ultimatespelling.com.
About Ultimate Spelling™
Ultimate Spelling provides a modern and easy to use spelling software that has been designed with one goal in mind – making children WANT to learn.
It is a fast and easy way to master even the most complicated spelling, without the need to write long lists or complete boring tests.
In fact, Ultimate Spelling provides more than just spelling help. It is a complete educational resource that boosts all level of a child's literacy.
Containing a personal computer tutor, Ultimate Spelling is the most realistic step-by-step guide to flawless spelling ability.