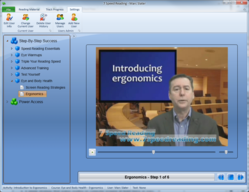 By not hiding the weaknesses of each Ebook reading device, they allow people to see past the hype and into functionality.
New York City, NY (PRWEB) February 23, 2013
Today, 7 Speed Reading creators announced the importance of Ebook reader reviews as a valid method for accessing the most efficient Ebook readers available. The software representatives stated that the use of Ebook readers is a growing trend, and anyone who does not yet use this technology should consider it, if they want to pleasantly and effectively improve on their literacy.
The world has witnessed a burgeoning growth of Ebook readers and while overall this seems to benefit people, not all Ebook readers are created equal. That's why 7 Speed Reading underlines the need for consumers to be fully informed on the best options available.
Marc Slater, managing director of 7 Speed Reading, commented on the significance of Ebook reader reviews, saying, "Reviews help individuals make informed purchasing decisions. If students wants to learn to read faster, they should purchase an Ebook reader that actually promotes reading faster. As another example, if a businesswoman wishes to have an Ebook reader with a prolonged battery life and extended memory, they deserve to know which is most suited to them, without having to do all the research themselves."
Access to official, expert reviews is necessary for consumers to find out which Ebook readers can help them achieve their goals. A student's needs may be very different from those of a recently retired CEO. That's when Ebook reader reviews come into play, ensuring that people can make the right decisions and get the benefits they need from the technology.
"Ebooks all have a shared, basic function: they make book reading mobile and accessible," noted Slater. "But knowing whether a reader has a wi-fi enabled connection, or has an LCD screen which makes reading possible in bright sunlight, or any other feature - that certainly changes the game a bit as far as purchasing decisions are concerned."
Reviews help consumers make wise choices, providing information and comparisons to make that decision easy. By not hiding the weaknesses of each Ebook reading device, they allow people to see past the hype and into functionality. 7 Speed Reading encourages people to use Ebook reader reviews as an excellent way to get the most out of technology whilst enjoying their favorite pastime, reading.
For more information about the benefits of using 7 Speed Reading, please visit the official website at http://www.7speedreading.com.
About 7 Speed Reading™
7 Speed Reading is the only modern speed reading software that uses the latest technology to produce superior results.
The software provides its users with a new way to master speed reading that guarantees three times the reading speed along with improved memory and comprehension.
The software is poised as the most comprehensive speed reading system anywhere. It contains seven learning strategies, fifteen software activities, video training, advanced tracking capabilities and many more exciting features.