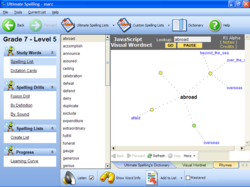 Among all Ultimate Spelling reviews, this one is particularly important as it recognizes our efforts to make it student-friendly, fun, and still efficient.
New York City, NY (PRWEB) February 26, 2013
A highly respected review website, Vocabulary.co.il, has reviewed Ultimate Spelling. The reviewers have reached the conclusion that this software manages the inconceivable: it's effective with little effort from the learner. As the review suggests, the developers of Ultimate Spelling successfully created a software that is engaging and efficient all at once. As illustrated in the review, while certain spelling software systems do well in the fun part – often at the expense of actual learning - still other software packages conspicuously lack any sense of fun or motivation, even with good information.
Interactivity is a feature that is well represented in Ultimate Spelling software, according to the review. As mentioned, Ultimate Spelling offers a plethora of fun activities which make learning pleasant through games and play. This is significant because, as the reviewer reveals, when students are kept engaged they will spend more time with a program, and with more time and practice learning is almost guaranteed.
Marc Slater commented on the content of this review, saying, "We are quite excited to receive this positive review. Although Ultimate Spelling is not solely student-oriented, we are very pleased to know that its structure makes students more actively engaged with spelling. This was, after all our aim: to create a fun-to-use but still effective spelling software system."
A feature of Ultimate Spelling software specifically praised by this review as well as others has been the consistent reinforcement and motivation the user receives from this intuitive software. The activities and tools are designed in such a way that render it very motivational and inspiring. Rather than lingering on weaknesses, it provides encouragement to continue practicing till the user gets it right.
The review concludes that thanks to the system's interactivity, motivational environment, affordability, just plain entertainment value, Ultimate Spelling might well be the best spelling software available right now.
Slater concluded, "Among all Ultimate Spelling reviews, this one is particularly important as it recognizes our efforts to make it student-friendly, fun, and still efficient. We promise that we will try to keep our software relevant to all types of users, and continue to improve our products into the future."
For more information about how spelling software can improve spelling performance for you and your family, please visit the official website at http://www.ultimatespelling.com.
About Ultimate Spelling™
Ultimate Spelling provides a modern and easy to use spelling software that has been designed with one goal in mind – making children WANT to learn.
It is a fast and easy way to master even the most complicated spelling, without the need to write long lists or complete boring tests.
In fact, Ultimate Spelling provides more than just spelling help. It is a complete educational resource that boosts all level of a child's literacy.
Containing a personal computer tutor, Ultimate Spelling is the most realistic step-by-step guide to flawless spelling ability.