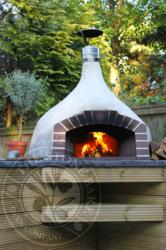 A heart shaped Pizza... straight to your lovers plate from a crackling wood pizza oven, what is not to love?
(PRWEB) February 13, 2013
Studies suggest that this 2013 will see more couples staying in to celebrate Valentines Day than ever before. The Stone Bake Oven Company have selected their favorite top tips for entertaining from home on Valentines Day, with or without a wood fired pizza oven.
1. Plan Ahead
Forward planning can save a dinner for two from being a disaster. To ensure both partners enjoy the meal in a relaxed manner, plan food preparation and the dinner menu well ahead of time. For those who lack in culinary skill, opt for a meal where the majority of the work is done in preparation, rather than leaving all the cooking to Valentines Day or evening.
2. Be Creative
Think outside the box and try something new. Take a break from day-to-day routines and celebrate, after all, there's only one Valentines Day per year. Opt for an explosion of flavor in a new dish, cooked on an open fire in a wood fired oven, including authentic Neapolitan Pizza, to smoked meats, grilled fish or roasted meat, various entree's and side dishes.
3.Keep it simple
Some of the most caring and thoughtful gifts can be the most simple. Be sure to consider your partners favorites and tastes. For pizza lovers a heart shaped Pizza is one option, served sizzling, straight to your lovers plate from a crackling wood pizza oven, what is not to love?
4.Balance
Watch the portion sizes, for best results, keep the dining courses light, and finish with a refreshing dessert or small chocolate number. Heavy meals can leave a dinner guest tired, bloated and ready for bed. Consider light snacks before the starter or main meal, and always ensure adequate availability of appropriate accompanying beverages.
5. Ambience
Light the wood fired oven in the garden, for a warming welcome to be enjoyed with a glass of wine, or alternatively, light candles indoors to boost romance and encourage relaxation. Be sure to add low level relaxed romantic music to calm the mood.
Use these top 5 tips and be on your way to a happier more romantic Valentines meal in for two. For a range of wood burning ovens for the home and commercial stone ovens, as well as guidance on how to cook in a wood fired oven, visit The Stone Bake Oven Company http://www.thestonebakeovencompany.co.uk