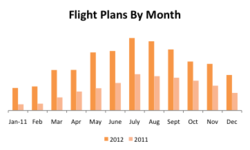 Guildford, United Kingdom (PRWEB UK) 13 February 2013
RocketRoute the professionals choice for flight planning has released its new Factbook providing a review on GA flying habits in Europe.
The Factbook provides useful information on the trends of pilots flying privately in Europe during 2012. RocketRoute growth highlights:

More than 100% growth in flight activity using RocketRoute.
More than 28,000 flight plans filed.
More than 250,000 flights prepared.
More than 1,000,000 briefing documents delivered to pilots.
Flying habit highlights:
Busiest countries for GA flights were Germany, France and UK.
July was the busiest month for GA flights.
Peak morning departure time was 09:00 UTC.
Peak afternoon departure time was 15:00 UTC.
The preferred time to file a flight plan was 24 hours prior to departure.
Peak time to file a flight plan was 09:00 UTC.
Peak day of the week was Friday.
Kurt Lyall, co-founder of RocketRoute commented "We are delighted to see more pilots using RocketRoute than at anytime previously. From aircraft manufacturers to clubs, businesses and private pilots. RocketRoute has a vibrant and growing community of professional and highly qualified pilots. We continue to work hard to deliver fast, safe and easy to use flight planning for all."
The latest copy of the factbook can be obtained directly from RocketRoute's website http://www.rocketroute.com. Copies can be requested also by support(at)rocketroute(dot)com.
About RocketRoute
RocketRoute the professionals choice in flight planning, provides the next generation of apps for pilots and airlines. Recognised in Europe for its powerful route generation tools that save time, fuel and money. RocketRoute was launched in 2010 and has over 18,000 registered users including aircraft manufacturers, airlines, jet charter operators, flying clubs and private pilots.