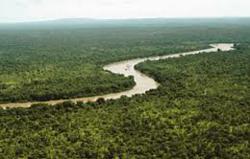 Environmental Research @ ScienceAlerts.com
Bad Honnef, Germany (PRWEB) February 13, 2013
ScienceAlerts.com is a social networking site featuring the latest Environmental Research content. Besides this newly added category, it also features the basic and applied sciences of agriculture, biology, forestry, geography and health. Currently, 29,015 members are monitoring 6,336 scientific publishing sources active in these fields and have contributed a total of 1,206,000 posts to the site. The latest additions to the site are aggregated on the frontpage as well as in an Environmental Research Social Network RSS Feed.
ScienceAlerts.com's new Environmental Research Category covers the external physical conditions affecting growth, development, and survival of organisms, and their management. It currently contains 35,495 posts in part stemming from 184 scholarly environment journals. This category also provides an Environmental Research RSS feed which is the best way of staying updated with the latest contributions to this science discipline. One of the latest articles in this category covers magntic susceptibility as a proxy to heavy metal content in the sediments of the Anzali wetland in Iran. The authors investigated the suitability of magnetic properties measurements for indicating pollution by six heavy metals (Ni, Cr, Cd, Zn, Fe, and Pb) and conclude that magnetic susceptibility measurements could be applied as a proxy method for heavy metal pollution determination in marine environments as a rapid site assessment. Another newly included article in this category covers exorbitant mortality of hatchery-reared Atlantic salmon smolts in the Meuse river in the Netherlands. Only 2-3% of the smolts escape into the North Sea and he authors contribute this to environmental factors including presence of man-made obstacles such as weirs, hydropower plants and a sea lock. These man-made obstacles result in disorientation of the fish, which are, consequently, at a higher risk of predation, and in disturbance of the smolt run timing.
ScienceAlerts.com's rigorous review process ensures that only relevant content is featured on the site. ScienceAlerts.com includes a search feature to retrieve specific titles or keywords from its' database. In addition, it suggests up to ten related articles for each article displayed.